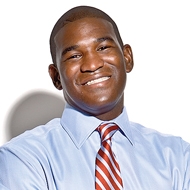 Jones sums up his time on the Hill as "bookended by crises." He joined the office of Virgin Islands delegate Donna Christensen just after 9/11 and started working on homeland-security concerns. His swan song as a congressional staffer came in 2009 when, as the first African-American policy director in the House majority whip's office, he was charged with incorporating the policies into the Troubled Asset Relief Program that were necessary to get the $700-billion bailout enough votes to pass. "That was a non-sleeping event," he recalls.
Since joining the Podesta Group more than two years ago, he's taken on a range of issues, including global health. At the request of Lance Armstrong's organization, Livestrong, Jones was instrumental in convincing the United Nations to agree to host a head-of-state summit on noncommunicable diseases. He also helped secure the largest increase in resources for patients in the reauthorization of HIV/AIDS legislation last year.

This article appears in the June 2011 issue of The Washingtonian.