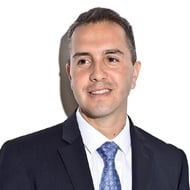 Meggesto had a tough act to follow when he decided to become a lawyer/lobbyist focused on advocating for the interests of American Indian tribes. His mother, who is, like him, a member of the Onondaga Indian Nation, was the first person from their tribe to become a lawyer in New York. Meggesto, though, hasn't had trouble distinguishing himself since coming to Washington after law school.
He has chalked up wins for his clients at federal agencies and on Capitol Hill. He successfully fought for the passage of the Claims Resolution Act of 2010, which gave one of the largest water-rights settlements ever to his client, the Crow Tribe. In the face of intense opposition, he recently got the National Indian Gaming Commission to allow the Ponca Tribe to pursue Indian gaming.

This article appears in the June 2011 issue of The Washingtonian.