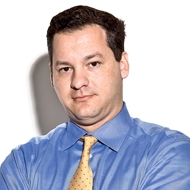 If a loved one has been jailed overseas for political reasons, you want Genser on your side. The lawyer/lobbyist has been hooked on rescuing political prisoners since his law-school days, when he headed a successful campaign to convince US lawmakers to press for the release of a British human-rights activist jailed in Burma. However, you won't find him in the database of registered lobbyists because he doesn't take paying clients.
Since then, he has founded Freedom Now, an organization dedicated to lobbying on behalf of prisoners of conscience. Genser has mastered the art of targeting officials at the State Department and on the Hill who have the power to help get his clients freed. For families of prisoners who wouldn't otherwise know how to navigate the bureaucracy of the federal government, he's a big asset.
Genser's efforts have aided in the release of 15 prisoners. He's currently working on several ongoing cases, including the fight to free 2010 Nobel Peace Prize laureate and Chinese dissident Liu Xiaobo.
This article appears in the June 2011 issue of The Washingtonian.