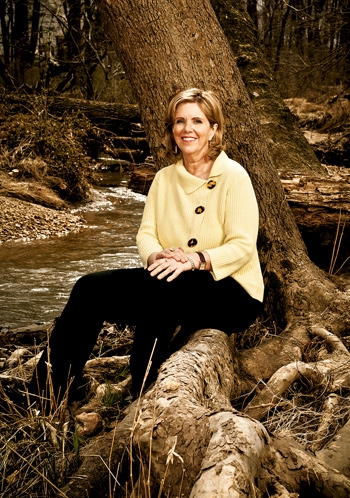 Nothing makes Amy Marasco Newton happier than seeing teens up to their knees in muck or deep in the woods planting trees. As founder of the Newton Marasco Foundation, she's helped fund a wilderness trail and a wetland habitat in Purcellville, maintained by Loudoun Valley High School students.
The Chapman DeMary Trail—created by the foundation, land donor John Chapman, the Piedmont Environmental Council, the town of Purcellville, and former teacher John DeMary—is a ten-acre green space in a rapidly developing area of Virginia. It's also an outdoor classroom.
Every part of the project has been embraced by the teens. Art classes designed the trail markers; shop students made the signs. The effort helped earn the foundation a Loudoun School-Business Partnership Award for enhancing the quality of public education.
Newton and her husband, Dave, sold their environmental consulting company in 2002 with plans for travel and community work. After he died in 2003, Newton created the foundation in his memory. She went to the Loudoun County school system to volunteer as an environmental expert and discovered that the high school had a naturalist. So she signed on to support larger projects they dreamed of doing. "Dave would be so pleased by the number of people who want to be involved," Newton says.
The foundation's Green Earth Literature Program gives awards to authors and illustrators whose work encourages young people to become caretakers of the environment. The books are distributed to area schools, and authors visit classrooms to inspire kids.
But nothing can compare to actually being there. "Working on the trail is so direct," Newton says. "If you get a child into a natural setting in the first ten years of life, you've created a naturalist."
She can measure success in other ways. One day when out in the wetlands, she noticed something unusual: "All the butterflies were on our side."

This article appears in the May 2011 issue of The Washingtonian.