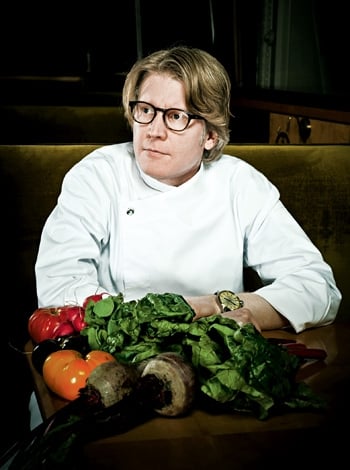 Before you ask what's cooking in chef Rob Weland's kitchen at Poste, you should ask what's growing in his garden. Weland's menu is often inspired by the organic garden he started in the courtyard of DC's Hotel Monaco, home of the restaurant.
The staff plants three times a year and nourishes the garden with compost made from the restaurant's kitchen waste. "We started 12 varieties of heirloom tomatoes," Weland says. "There are now 30 varieties of herbs, cherries, heirloom apples, berries, and fresh currants. This is our first year of asparagus."
Weland also has inspired Poste staff to volunteer at the Washington Youth Garden on the grounds of the National Arboretum; young gardeners in the program come to Poste for cooking demonstrations to encourage healthy eating.
Weland grew up eating tomatoes straight off the vine—his grandfather grew them at home in southern New Jersey. In Lyon, France, Weland apprenticed with chef Pierre Orsi, who taught him about the treasures to be found at farmers markets.
It's a legacy he shares with restaurant guests at his Thursday market dinners: A small group accompanies the chef to the Eighth Street farmers market; then he creates a five-course meal based on his purchases. Diners often walk away with a jar of jam made from Muscat grapes grown in Weland's Poste garden.
He also has a wood-burning rotisserie used for "nose to tail" dinners served family style. The entrée may be anything from a grilled goat to a suckling pig, and diners "embrace eating cheeks, liver, kidneys," Weland says.
If he has his way, more Washington home cooks will support local farmers markets, buying "for three days at a time, not just a pint of strawberries." Weland wants everyone to fall in love with the taste of fresh, the way he did in his grandfather's garden.

This article appears in the May 2011 issue of The Washingtonian.