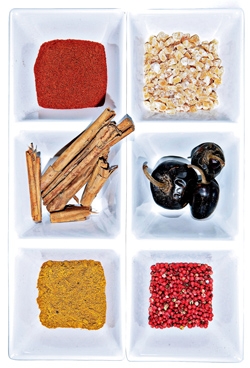 ASIAN: Han Ah Reum and GrandMart
Han Ah Reum, 12015 Georgia Ave., Wheaton, 301-942-5071; 8103 Lee Hwy, Falls Church, 703-573-6300. GrandMart, Falls Church, 703-533-1700; Sterling, 703-433-2003; Centreville, 703-266-2230; Gaithersburg, 301-355-7499.
Asian immigrants flock to these stores largely for the variety and quality of the produce. Typically you'll find half a dozen kinds of eggplant, and the array of greens is dazzling. You'll also see an impressive collection of sauces, pastes, and spices; a meat case filled with inexpensive off-cuts; and a party-worthy frozen-seafood selection (look for bags of shrimp and squid).
ETHIOPIAN: Habesha Market
1919 Ninth St., NW; 202-232-1919.
The smell of frying onions and toasting spices wafts through this market/cafe in the heart of U Street's Little Ethiopia—a powerful advertisement for the goods on offer: bags of injera (flatbread used to scoop up stews), Ethiopian coffee beans and loose-leaf teas, and a rich assortment of the hard-to-find spices—such as kosseret and korerima—that give the cuisine its punch. If you're looking to try your hand at wats or tibs, this is one of the best places to load up on raw materials.
INDIAN: Ginger & Spice Market
6548-A Little River Tpk., Alexandria; 703-916-1818.
Indian expats troll these aisles for henna, Bollywood DVDs, and Indian-style bottled soda. But you'll find culinary inspiration in the array of spices sold whole, ground, and in various blends. There's also a wide assortment of beans, lentils, rices, and flours; a well-stocked frozen-food case; and shelves of unusual condiments, such as a southern-style mango pickle that cuts the lushness of curries the way gherkins temper the richness of corned beef.
ITALIAN: The Italian Store and Three Brothers Italian Market
The Italian Store, 3123 Lee Hwy., Arlington; 703-528-6266.
Three Brothers Italian Market, 4521 Kenilworth Ave., Bladensburg; 301-864-1570.
Whether you're preparing an Italian feast or a quick dinner, these popular markets offer one-stop shopping. At the Italian Store, you can find jugs of olive oil and jars of marinara, basil and fresh mozzarella, dough for making pizzas, and wine for washing them down. At Three Brothers, you can stock up on industrial-size containers of peppers, mushrooms, tomatoes, and sauces—the bigger, the cheaper—and an array of dried pastas. At either market, indulge in an overstuffed sub or slice of pizza.
JAPANESE: Hana Japanese Market
2004 17th St., NW; 202-939-8853.
This tiny market claims to stock more than 1,300 items—and the quality and depth of the selection are excellent. Shelves are crammed with varieties of ramen and seaweed along with green-tea powders, miso, and nearly a dozen rice flavorings and seasonings. Among the surprises are sushi-grade fish, including tuna and salmon, and high-quality mochi in flavors such as green tea, chocolate, and strawberry.
LATIN: El Chaparral Meat Market
2719 Wilson Blvd., Arlington; 703-276-8337.
Among the area's many Latin groceries, we like this one for its thick-cased sausages, including Argentinean chorizo, and dependably cheap flank steak ideal for fajitas. The selection of dried chilies is reason alone to make a trip. You'll also find a variety of breads and cakes—including, on occasion, fresh-made alfajores—and a small selection of Chilean wines.
PERSIAN: Yas Bakery Supermarket
137 Church St., NW, Vienna; 703-242-4050.
Even if you think you have no need for Persian spices, herbs, or frozen foods, at this bakery/market you'll be seduced by the smells of fresh-baked bread, cakes, and cookies. We love the flatbreads and pitas, and the pistachio baklava is superb. Beyond the bakery are items you don't see elsewhere: vinegar-salted pistachios, dried lemons, barberries, spiced watermelon seeds, and cardamom-spiced sugar plums.
RUSSIAN/EASTERN EUROPEAN: Russian Gourmet
Fairfax, 703-537-0858; McLean, 703-760-0680; Alexandria, 703-299-4627; Herndon, 703-707-8181; Rockville, 301-816-0550.
The foods of Russia and Eastern Europe are so seldom seen in our area that these small groceries are something of a novelty. They're also treasures. The breads, delivered every Tuesday, are hearty antidotes to soft American varieties; the dark rye is excellent, particularly as a base for one of the vacuum-packed fishes, such as smoked sturgeon. We also go for the Russian Baltica beers, aggressively flavored salamis, and dumplings called pelmeni (buy them frozen and dunk them into boiling water for a neat alternative to tortellini).
TURKISH: Le Petit Corner Store
1643 34th St., NW; 202-338-7555.
This tiny Georgetown shop packs a wealth of Turkish delicacies into its shelves and freezers, including kofta, olive oil, honey, and rose jam. Don't miss the house-made borek, a spinach pie.
VIETNAMESE: Hung Phat
11315 Fern St., Wheaton; 301-929-0725.
Navigating the aisles of this cramped market can be a bewildering experience, involving new systems of organization and a staggering assortment of unfamiliar ingredients. The difficulty for the veteran shopper is the temptation to buy too much. We go for bottles of fish sauce (Three Crabs is our favorite), fresh udon noodles and jasmine rice, silken tofu, and, in the frozen-food case, quail for glazing and roasting. There also are lacquered chopsticks and plates.

| | | |
| --- | --- | --- |
| Chef-Recommended Pantry Essentials | Spices, Sauces, and Secret Ingredients | Gourmet Food Worth the Splurge |

This article appears in the May 2011 issue of The Washingtonian.