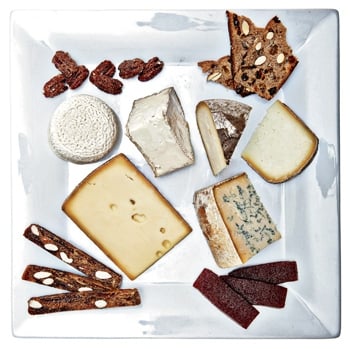 A successful cheese platter has a variety of textures, flavors, and condiments. Carolyn Stromberg, who hosts private parties and classes through her DC-based business, the Cheese Course, gave us guidelines for putting together a five-cheese sampler. Count on about 1½ ounces per person, or a little more than a quarter pound for four people.
Start with a light, citrusy goat cheese, such as Coupole from Vermont Butter & Cheese Creamery, or the Italian Rocchetta, a blend made from goat's, sheep's, and cow's milks.
The next cheese should be a richer cow's-milk triple-cream—good choices are Cowgirl Creamery's Mt. Tam, the easy-to-find French Brillat-Savarin, or the crème-fraîche-enhanced Délice d'Argental.
Move on to a firm, sheep's-milk cheese, such as Zamorano or Pecorino foglie di noce, wrapped in walnut leaves.
A bold Alpine-style, or Swiss, should come next. Look for Gruyère by Gourmino or its French counterpart, Comté, marked by an onion-like flavor. The brine-washed Sharfe Maxx is also a smart choice.
See Also:
End with a blue cheese. Go with what you like, but two domestic cheeses—Asher Blue from Georgia's Sweet Grass Dairy and Crater Lake Blue from Oregon's Rogue Creamery—are good for a crowd.
To accompany a wide range of cheeses, fruits—fresh or in preserves—and nuts, such as candied pecans, are the best pairings. A fig-and-nut cake from the brand Mitica is a versatile option. Membrillo, a quince paste that feels like a firm jelly, is most often served with Spanish sheep's-milk cheeses but works with lots of others as well. Stromberg likes slicing and crisping the fruit-and-nut bread from Lyon Bakery, available at Cork Market & Tasting Room or seasonally at Union Station's farmers market, starting in May; a plain baguette is another idea. Be careful with mustard, olives, and cornichons—they can overwhelm mild cheeses.

This article appears in the May 2011 issue of The Washingtonian.
Subscribe to Washingtonian
Follow Washingtonian on Twitter
Follow the Best Bites Bloggers on Twitter
More>> Best Bites Blog | Food & Dining | Restaurant Finder