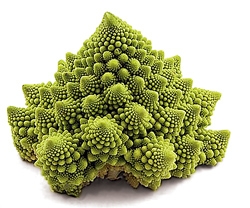 Watermelon radishes—a staple in the White House garden and farmers markets—punch up salads with their fuchsia color and crisp texture. Their lightly sweet, peppery flavor shines on its own, but they're also good pickled.
Nasturtium flowers, which grow locally through the spring and summer, impart more flavor than most edible blossoms, as do their leaves—Bertrand Chemel uses both in his grilled-asparagus salad and vichyssoise at 2941.
For a milder flavor with visual oomph, try sweet Chioggia beets. The inside boasts candy-cane-like stripes that bleed into pink when cooked, so they're beautiful in raw, thin slices.
Some items, such as Romanesco cauliflower, are more for show than flavor. The bright-green head with its fractal florets—which taste similar to white cauliflower—is striking when steamed whole.
Chefs such as Todd Gray snap up rainbow chard when it hits the farmers markets periodically throughout the year. The stems range from bright ruby to gold, and the leaves are packed with vitamins and spinach-like flavor.
On the sweet side, dragon fruit's fiery shell belies its supple light-pink meat. Found in Asian markets and specialty stores including Balducci's, the honey-flavored flesh can be scooped out for an exotic-fruit salad or sliced skin on to garnish cocktails.
Sometimes all a dish needs is a final flourish. Pea shoots and tendrils brighten everything from pasta to sashimi with their verdant color and pea-like crunch in the spring and early summer.
A barbecue around the same time calls for something less dainty: Restaurant Nora chef Nora Pouillon likes to blanch and grill serpentine garlic scapes for an artful finish.

This article appears in the May 2011 issue of The Washingtonian.
Subscribe to Washingtonian
Follow Washingtonian on Twitter
Follow the Best Bites Bloggers on Twitter
More>> Best Bites Blog | Food & Dining | Restaurant Finder