Former restaurant chef Jamie Stachowski now makes great charcuterie.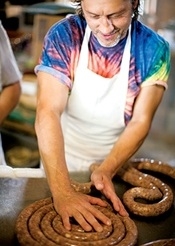 Two former restaurant chefs are running mobile butcher shops. Former Tallula chef Nathan Anda brings Red Apron Butchery to farmers markets in DC's Dupont Circle (20th St., NW, between Q St. and Massachusetts Ave.) and Penn Quarter (Eighth St., NW, between D and E sts.). He also sells at Planet Wine. Anda turns local meats into bacon pastrami, Italian-style cold cuts, and a marvelously garlicky saucisson. Later this year, he plans to open a USDA-certified headquarters where meat will be butchered and sold as well as a string of smaller butcher shops. Jamie Stachowski of the late Restaurant Kolumbia supplies many top kitchens with Stachowski Brand Charcuterie, but his boldly flavored meats (sausages, cured meats including bresaola and coppa, galantines, and terrines) are available at farmers markets in Alexandria (301 King St.), Falls Church (300 Park Ave.), and DC's Palisades (48th Pl. and MacArthur Blvd., NW).
This article appears in the May 2011 issue of The Washingtonian.
Subscribe to Washingtonian
Follow Washingtonian on Twitter
Follow the Best Bites Bloggers on Twitter
More>> Best Bites Blog | Food & Dining | Restaurant Finder