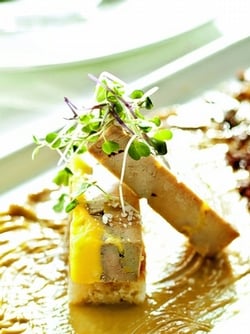 Some chefs are combining the bookends of a meal, concocting appetizers that conjure up dessert. At the New Orleans–themed Bayou in DC's West End, the starters list shows barbecue shrimp, fried green tomatoes—and crawfish-and-andouille-sausage cheesecake.
Patrick O'Connell, chef/owner of the Inn at Little Washington, pairs lamb carpaccio with Caesar-salad ice cream and sees the appetizer/dessert hybrid as uniquely American. "We don't have any rules with our cuisine," he says. "It has a lot to do with our palates becoming jaded and needing more buzz, more sizzle, more crackle, more excitement." He chalks up the success of his lamb dish to Caesar salad's universal appeal—the ice cream is "familiar and an adventure at the same time."
At PS 7's in DC's Penn Quarter, a kitchen joke about eating foie gras in the morning turned into a collision of breakfast, dinner, and dessert: a foie gras terrine cut into the shape of a candy bar and paired with a cake-like chestnut financière, representing toast, and pistachio panna cotta, which stands in for milk. "We made one for giggles," says chef Peter Smith, "and it worked."
But Smith, who also has had a turnip brûlée on the menu, doesn't see the dessert/appetizer mash-up fad as an accident: "It used to be 'pastry is pastry and savory is savory.' But the pastry side now is able to use a lot of untraditional methods, and the savory side is saying, 'How can we incorporate those methods?' " Case in point: The pastry chefs at PS 7's make popcorn for the bar. One of the newest flavors? Pastrami.
This article appears in the June 2011 issue of The Washingtonian.
Subscribe to Washingtonian
Follow Washingtonian on Twitter
Follow the Best Bites Bloggers on Twitter
More>> Best Bites Blog | Food & Dining | Restaurant Finder