Tyonna Williams—sitting in front—and her teammates review their game plan before the start of a big matchup. Photos by Simon Bruty
The hum of fluorescent lights is deafening in the high-school locker room in Chandler, Arizona. An hour and a half earlier, 14 teenage girls were singing and dancing and drumming on the aluminum lockers.
Now the only sound coming from the Riverdale Baptist Crusaders, a high-school basketball team from Upper Marlboro, is the shuffle of bags and sneakers as the players take off their sweat-soaked uniforms. They've just suffered a 23-point loss to Illinois's Bolingbrook Raiders, the fourth-ranked team in the country. It's a disappointing blow in their second game at Nike's Tournament of Champions, an invitation-only tournament considered the country's most prestigious in girls' high-school basketball.
For all practical purposes, the Crusaders are a running, jumping, three-point-shooting Nike ad. Their sponsorship contract with the company means the "swoosh" logo is everywhere—on their jerseys, warm-ups, and shiny blue shoes.
The Crusaders wear their uniforms like a badge of honor—that it will get them places is practically a given. Not counting this year, 45 Lady Crusaders have gone to college on athletic scholarships since 2000. Among the biggest-name schools are the University of Virginia, Wake Forest, and Duke.
Former Crusaders have gone on to play professionally in the WNBA and overseas as well as to coach basketball at the college level. Four have been inducted into the Women's Basketball Hall of Fame.
For some of the players, the dream isn't just about the game. The girls on this year's team want to become physicians and lawyers and tech wizards. The uniform is a vehicle, a way to get to the next step. If everything goes right, they'll achieve that goal on someone else's dime.
But today none of that seems to matter. At halftime, the Crusaders have 26 turnovers and ten fouls. They're one for nine from the three-point line.
Three minutes into the fourth quarter, Tyonna Williams, a captain and the team's best three-point shooter, fouls out. Down 21 points, the Crusaders lose their composure; whereas the Raiders play with control, the Crusaders seem frenzied. There's no patience or teamwork—just sprint down the floor, shoot, miss, sprint back.
Adding insult to injury, Bolingbrook coach Tony Smith sends in his bench players with 1:30 left to play. A Crusader turnover and a three-point air ball round out the final minute.
Deflated, the Crusaders file into the locker room. The coaches—there are four—wait outside while head coach Diane Richardson gathers her thoughts.
The door opens slowly and Richardson walks in, her five-foot-five frame looking bigger than usual. The girls avoid eye contact. Richardson stands in the middle of the room with a whiteboard behind her, the team's pre-game strategy still inked in green marker.
"I'm angry," Richardson says. "I don't think you wanted it enough."
The girls sit quietly. They know she's right.
Richardson talks for the next 45 minutes, her voice passionless as she recounts everyone's mistakes—a turnover here, a bad pass there. Her mind is photographic when it comes to basketball, even for games she wants to forget.
A janitor finally interrupts. He thought everyone had left, he says, and he's already armed the security system. "We'll just be a minute," Richardson says almost sweetly, a forced smile on her face.
She turns back to the team. "We put all our time and energy into making you the best basketball players on earth," she says, pausing to let the words sink in. "But with all that instruction, where in the world is your heart?"
Next: Richardson's Crusaders basketball team is a family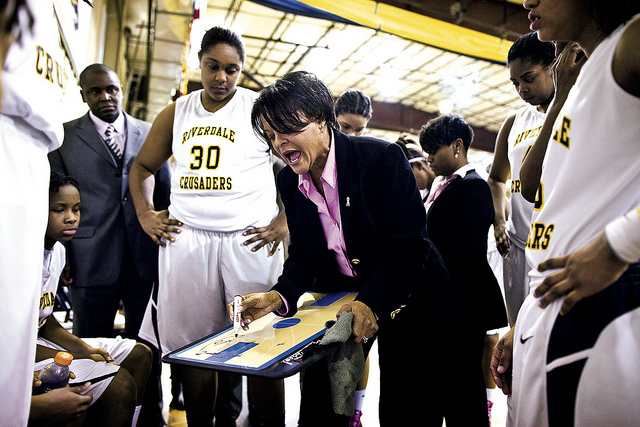 "I'm in touch with every player I've ever coached," Diane Richardson says. "We are family."
The Riverdale Baptist field house is behind the main school building off Largo Road in Prince George's County. It's connected to the school by a dim hallway used to store tables and folding chairs. Next door are a half dozen overflow classrooms in white trailers. A steepled church, which holds Sunday and Wednesday services, is easily the prettiest building on the campus.
The school, which has nearly 800 students in pre-K through 12th grade, opened in 1971 as an extension of the church. The gym was built a decade later. Barely larger than the basketball court, it has clunky metal bleachers along one side. When they're pulled out for a game, fans in the front row sit inches from the action. There's a utility room in one corner and a small weight room in another. The ceiling leaks during heavy rain, and sometimes the scoreboard shorts out.
Because the school's six basketball teams share a single court, they alternate practice times. Early practices are rushed, and even with the junior varsity there might not be enough bodies for five-on-five scrimmages.
A late practice means the girls may not see their beds until midnight: Practice goes until 7:30 or 8, then there's dinner and homework. But these are the practices in which the team really works. Because they don't have to watch the clock, the coaches take time with the drills, guards sweating at one end of the court and "the bigs"—Richardson's name for forwards and centers—working on lay-ups and rebounds at the other.
Richardson types up a schedule for each practice and plans drills down to the minute. She has the girls sign in when they arrive, a way of keeping track of who shows up and when. "That way, when they complain about not getting playing time, I can say, 'Well, let's see how much practice time you put in,' " she says.
Richardson spent two years as a college coach in 2006 and 2007. Richardson had been with Riverdale for five seasons, leading the team to a 142–18 record and earning its first national ranking in 2005. It was only a matter of time before she was tapped by the big schools.
American University's women's basketball head coach, Melissa McFerrin, noticed her first; she asked Richardson to join her staff as an assistant in 2006. A year later, Richardson was brought on by the University of Maryland's Brenda Frese. "I thought, 'This is it. This is my team,' " she says. She'd grown up idolizing the Terps.
But coaching a college team was more like a business, not the family atmosphere she'd cultivated at Riverdale. In college, the players show up for practice or a game and they're expected to shut out their personal lives and perform. "I'm more of a nurturing-type coach, and this was all work, work, work," Richardson says.
She left Maryland after a year and took time off to figure out her next step. "The problem was I don't relax very well," says Richardson, a self-described workaholic and insomniac. "I'm not the sit-on-the-porch-drinking-lemonade type."
Late at night, Richardson will be at her desk, sending e-mails and updating her Facebook page. Or she might watch game film, work on a new play, or plan tomorrow's practice—her husband, Larry, asleep in the next room. She'll finally drift off around 3 or 4. Her friends know not to call until after 10 am.
When Richardson heard that her old job at Riverdale had opened up, she jumped at it. She missed the kids and the game, missed the practices and strategy sessions and recruiting and championships. Most of all, she missed the surrogate family she'd built at a school an hour from home.
"When I talk to parents, I tell them that this is not just about basketball. We're family, and most likely we'll be part of your family for the rest of your life," she says. "I'm still in touch with every player I've coached. They call me when they get married or when they're having a baby. We are family. Truly. All the time."
Next: "My mother is a crack addict."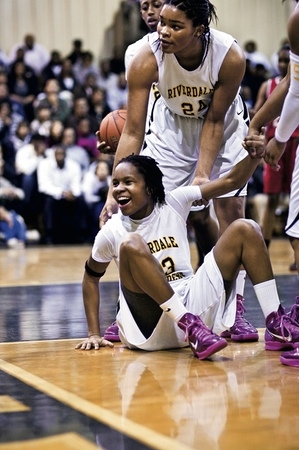 Family—it's a hard word for Tyonna Williams. "My mother is a crack addict," she says. The words come out flat, almost practiced, without a hint of sadness.
Tyonna isn't sad; she's angry.
At 17, she not only understands what Section 8 housing means; she knows what it looks and smells like. She and her brothers, Anthony and Brandon, grew up splitting time between rundown apartments in DC and their grandparents' home in Fort Washington. Their mother, Cynthia, wasn't able to hold down a job because of her drug habit. Instead, she'd find men willing to support her.
Tyonna is the middle child—Anthony is two years older, Brandon a year younger—but even as a child she saw herself as a mother figure. When they had food in the house, Tyonna would cook for her brothers. When they didn't, she'd go looking for some, knocking on neighbors' doors and asking for anything they could spare. She refused to accept money—"I knew right where it would go if my mom found it," she says—but if things got desperate, Anthony would shake down one of the neighborhood kids and take his pocket change.
Tyonna never really knew her father, also named Anthony, but she has flashes of memories, sometimes in nightmares. She says he used to beat her mother within an inch of her life. Ella Simmons, Tyonna's grandmother, remembers one time when he smashed a window, sending broken glass flying across the apartment. Baby Brandon was asleep in a bassinet nearby. When Simmons arrived later, she found her grandson covered in shards of glass.
After the children's father left, Cynthia and her kids bounced between seedy apartments and homeless shelters. The cycle was always the same: A welfare check would arrive and they'd move to their own place for a few weeks. Then Cynthia would blow the rest on drugs and they'd be evicted. Cynthia thought it was funny to give her young daughter booze.
For much of her childhood, Tyonna didn't know that the "other DC" existed—the Capitol, K Street, Georgetown. Photographs of downtown DC confused her.
Tyonna was six when she finally saw the White House. Cynthia and her kids were staying at a homeless shelter, and one morning she suggested having a mother/daughter day. "Those were the magic words," Tyonna says. She was elated.
Cynthia and her daughter rode a bus around the city. From the window, Tyonna took in views of the "nice DC," as she calls it, cataloging everything to tell her brothers. They ate burgers at McDonald's for lunch.
That night, Tyonna fell asleep on a cot with her mother's arms wrapped around her. When she woke up, Cynthia was gone. Assuming their mom had gone out to look for some food, the kids waited. It was six months before they saw or heard from Cynthia again.
Next: "It was like I had this addiction to basketball."
Tyonna's childhood didn't leave her with many happy memories, but the ones she does have center around basketball.
Among her favorite stories is one she doesn't even remember: being three years old and touching a basketball for the first time. "They say I wouldn't let go of it," she says, flashing a big, toothy smile.
As she got older, Tyonna spent hours at the neighborhood courts watching the older boys play pickup games, begging to join in. When they told her she was too small, she would stand on the sidelines, arms crossed, studying how they moved up and down the court. "There was just something about the way it looked," she says. "It was like I had this addiction to basketball."
"There was just something about the way it looked. It was like
I had this addiction to basketball."
Ella Simmons, who took in her grandchildren after Cynthia left, signed Tyonna up for a summer league at her church, Ebenezer AME in Fort Washington. At age ten, Tyonna, small and skinny, was the starting point guard and the only girl on the church's team. The games were physical, she says, but they helped her develop a thick skin. The other kids knew about her family problems and sometimes teased her, but rather than fight—her first instinct—she picked up a basketball.
Tyonna eventually joined elite AAU teams. She spent her first two high-school years at the Academy of the Holy Cross in Kensington before transferring to Riverdale in 2009 with her best friend and fellow guard, Lauren Chase. An athletic scholarship covered most of Tyonna's tuition.
The Riverdale program, she says, was a shock to the system. Unlike Lauren, who'd grown up attending Richardson's summer basketball camps, Tyonna didn't know much about her new coach, whom people called the Queen of the DMV—DC, Maryland, and Virginia. Practices were tough. Richardson, a former point guard, focused much of her energy on developing Lauren and Tyonna into leaders. "We cried after almost every practice," Tyonna says.
Richardson was trying to break through Tyonna's shell. She saw something in her. More than just a good ball player, she saw a kid with a firecracker temper, a kid who was hurting, a kid who needed direction, a goal.
Richardson saw herself.
Next: On the road with the Riverdale basketball team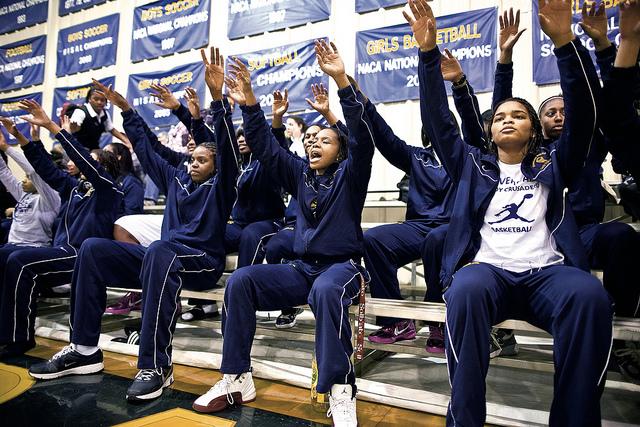 In the last ten years, 45 Lady Crusaders have gone to college on athletic scholarships, and some have gone on to play professionally in the WNBA and overseas.
It's a few weeks before Christmas, and Richardson has been traveling a lot with the team and hasn't had much time to decorate or shop. She's not sure how she'll get everything done by the 25th.
Not that she's complaining—Richardson likes to be busy. The Crusaders opened the season with games in Jacksonville, Florida, and later they'll travel to Hampton, Virginia; Erie, Pennsylvania; the Bronx; and, for the Nike tournament, Arizona. By the season's end in March, the team will have played 35 games, 15 against nationally ranked opponents. An ESPN writer called Riverdale's schedule "perhaps the most murderous in the country."
Richardson smiles at the comment. As the schedule's architect—the Crusaders don't belong to a league, so it's up to the coach to schedule games—she doesn't want the season to be a cakewalk for her kids; she wants to challenge them even if it means taking some losses. It's part of her coaching philosophy: You're only as good as the teams you play. "And we want to be the best," she says.
For Riverdale, that means spending lots of time on the road. While there are good teams in Washington, many are reluctant to play the Crusaders—coaches worry that their best players might be lured by the shiny Nike gear and the team's success. Their fear isn't completely unfounded: Eleven of this year's varsity players transferred to Riverdale from other local high schools. Richardson swears she doesn't actively recruit kids from other schools—meaning that neither she nor her coaching staff makes the first contact—but some coaches don't buy it.
Absent from the 2010–11 schedule are such Washington powerhouses as Holy Cross, Good Counsel, and Bishop McNamara. The Crusaders won't play any public-school teams from Prince George's, Montgomery, and Fairfax counties, either. Their biggest local matchups are with Anne Arundel's Archbishop Spalding, to which the Crusaders lost 69–58 at a tournament in early December, and DC's St. John's High School, another nationally ranked team they will play in February. If they're able to beat St. John's, which outranks the Crusaders on both local and national lists, it'll give them hometown bragging rights.
But Richardson doesn't want to get ahead of herself. Her team isn't coming together as much as she'd like, and she's not getting the consistency from her players she's used to. She has tried several variations of her starting lineup—Maya Singleton instead of Deja Hawkins at the 5 position, Jonquel Jones for Jennie Simms at the 4—but something's not clicking.
Then there's Tyonna Williams. She's a natural leader—one of the reasons Richardson made her a captain—but she has that razor-sharp feistiness that can either fire you up or dissolve you into tears, depending on the day. Without knowing it, Tyonna can send the team's morale into a tailspin.
"She's had to fight for everything—that's where she gets it," Richardson says. "She's just like I was growing up."
Next: Living from paycheck to paycheck
Like Tyonna, Richardson never really knew her father. Her parents divorced when she was a year old, so her mother, Josie, moved Richardson and her brother, James, to Josie's parents' house in Arlington. They stayed there until Josie remarried a few years later. Richardson's stepfather, Charles Martin, moved the family to Southeast DC near East Capitol Street and Benning Road. It was a rough neighborhood, Richardson says, "but we didn't know any different."
Martin worked at a gas station and eventually landed a job as a shift manager at a McDonald's. Josie, who stayed home with the kids for a few years, found work at a laundry factory cleaning hospital linens. The work was exhausting, but it was the best job she could find without a high-school diploma.
She got into a lot of fights. Other times she was just trying to prove she was tough. And sometimes Richardson fought for no reason at all.
The family lived from paycheck to paycheck. New clothes were a rarity; Richardson wore mostly hand-me-downs from her brother, cuffing too-big pants at the bottom and cinching them around her tiny waist with a belt.
She got into a lot of fights. Sometimes they stemmed from a bruised ego when kids, especially girls, teased her about her clothes. Other times she was just trying to prove she was tough. And sometimes Richardson fought for no reason at all. If she got in over her head, her brother was there to bail her out.
When the family moved to Seat Pleasant, just over the District line in Prince George's County, Richardson got her first taste of basketball. She would watch her brother play with his friends, and he would coach her at home at night. Under the glow of streetlights, she and James would practice dribbling up and down the sidewalk in front of their house. Richardson perfected her jump shot using trash cans as hoops.
She entered high school shortly after Prince George's schools were desegregated. She and James were among a handful of black kids who were bused to all-white Bowie High, an hour each way. They were greeted by protesters on their first day.
"We learned to lay low," Richardson says. "You just kind of went to class and did your work, and then you got back on the bus. You prayed you didn't miss it."
The bus ride gave Richardson time to take in the sights of middle-class neighborhoods: pretty lawns, front yards with colorful gardens, well-kept homes, sidewalks that weren't riddled with litter. For the first time, Richardson saw what other people had—and, just as clearly, everything she didn't.
Watch a video about Richardson, Timea, and the Crusaders.
Next: "I can't use the way I grew up as an excuse."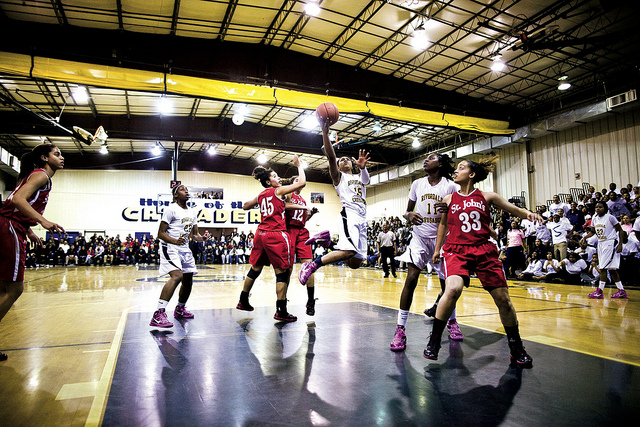 Heading into their standing-room-only matchup, St. John's was ranked first in the region and Riverdale fifth. Freshman Auteaonna Gilmore drives for the basket.
Before her junior year, Richardson transferred to Largo High School. Her family moved to a community called Kettering, across the street from the school.
At Largo, Richardson met a teacher named Norma Trax. The teacher saw something in Richardson others had missed. "You're a smart young lady," Trax told her. "You could go to college."
It was something Richardson had never considered. No one in her family had gone to college. Her mother was juggling long hours at the factory and studying for her GED. Richardson always had figured that graduating from high school would be more than enough. Besides, how would she afford it?
Richardson starred on Largo's basketball and track teams, earning state titles in 1975 and 1976 in five sprinting events. "This could be your ticket," Trax told Richardson. Because of Title IX legislation, women were starting to get access to college athletic scholarships.
She received offers from two colleges, the University of Hawaii and Frostburg State University. She settled on Frostburg, a three-hour drive from home, because her parents and brother would be able to visit. Though her scholarship was just for basketball, she wanted to run track, too.
At Frostburg, she joined a sorority and found a boyfriend, Larry Richardson, the point guard on the men's basketball team, who would become her husband. She graduated cum laude in three years with degrees in psychology and sociology. In 1976 she was the NCAA regional field-goal-percentage leader for basketball and in 1979 the regional champion in the 200- and 400-meter sprints.
Richardson and Larry got married in 1982 and bought a house in Morningside in Prince George's County. Her mother and stepfather moved to Radford, Virginia, and Richardson helped support them. Her sisters, encouraged by Richardson's example, went on to graduate from James Madison University and Radford University in southern Virginia. Her mother, too, eventually earned a college degree.
Richardson became vice president of a bank, then founded RCI Financial in Lanham, a financial-services company. It grew to 2,500 employees—including her brother, James, and other family members—before she sold it in 1997. Since then, Richardson has dabbled in other ventures, including starting a security-system-sales company with Larry, which he now runs. The couple has three children: Dana who is 26; Donnie, 21; and Michael, 13.
Sitting in her spacious home in Ellicott City, it's hard to imagine that Richardson ever went without. "Larry loves big TVs," she says, pointing at a large one hanging from the ceiling in the master bedroom. She has a pool, a porch, volleyball and basketball courts, and go-carts that her kids and their friends—and some of her basketball players, too—use to tear around the four-acre property.
Whether she knows it or not, her life, her family, her home—they're the things many of her players want for themselves. It's as if they're watching her under a microscope, trying to imagine themselves in her shoes. Tyonna Williams is Richardson's closest study.
"She taught me I can't use the way I grew up as an excuse," Tyonna says. "It's like how she's the backbone of her family, I'm the backbone of mine right now. I want to be able to take care of everybody—my grandparents, my brothers. And even though our time to shine hasn't got here yet, I just know it's in my hands."
Next: Signing day for the Crusaders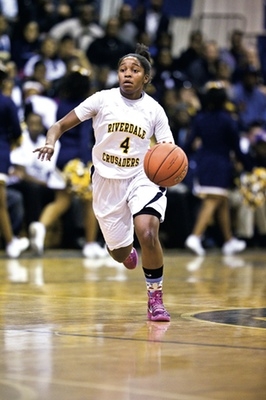 For a few hours on a Wednesday afternoon, half of the Crusaders' gym is transformed into an improvised press room. No press is here, but Tyonna and Lauren walk out dressed to the nines. Today they're signing their college letters, announcing where they'll be going next year.
They've had years to ponder the decision while weeding through the streams of letters from college recruiters. It's exciting when the letters start to come, but over time the ritual—checking the mail, opening letters—becomes a reflex. The letters end up stuffed into drawers and shoeboxes.
Today Lauren and Tyonna sit at a folding table draped in a Crusader-blue tablecloth, balloons tied to their chairs. In front of them is swag from their schools: a maroon Temple Owls T-shirt for Tyonna, and a gray-and-yellow UMBC sweatshirt for Lauren. Their teammates skipped out on last-period classes to come, and parents and grandparents took a half day off work. The athletic department set out a table of refreshments—fruit salad, a platter of Chick-fil-A nuggets, and sheet cake. Richardson brought Tyonna a jug of apple juice, her favorite drink.
Signing day is exciting for everyone—three generations of Lauren's family have turned out for the ceremony—but it's especially momentous for Tyonna. Her grandmother, Ella Simmons, is here with Tyonna's aunt, Angela, one of the people who stepped up to help raise Tyonna and her brothers after Cynthia split. Angela is blind, so Simmons sits at her elbow and explains what everybody's wearing and doing. She has a camcorder in her hand; Matthew, her husband, was rushed to the hospital last night after suffering a stroke. Simmons doesn't want to let him miss anything.
Also absent is Tyonna's brother Anthony, who is in jail at the Prince George's County Detention Center. His arrest shattered Tyonna, and it's still hard for her to figure out. They sometimes talk on the phone, which helps; she tells him about her games and school and how their grandparents are doing. She hasn't been to see him, but she hopes to visit the jail on her birthday in May.
Anthony's arrest was a reminder to Tyonna about why she has to succeed. At Temple, she'll study criminal justice; she wants to be a lawyer or detective someday. Her goal is to clean up the streets of her old neighborhood. She wants to give the kids there a better shake than what she and her brothers got.
Signing day is Tyonna's first step toward realizing that goal. She and Lauren, best friends since sixth grade, smile and laugh as they pose for photos.
The two are opposites. Tyonna is strong-willed and outspoken, Lauren thoughtful and measured. It shows in how they play: Tyonna, flashy and in-your-face, gets more of the spotlight, while Lauren, who's equally talented, takes a back seat to her best friend. It's one of the reasons Lauren is going to UMBC rather than a bigger basketball school. The Maryland honors college was among the first to see her quiet talent. By the time bigger schools took notice, it was too late—Lauren had made a commitment.
Richardson's nickname for Lauren is Bird—not because she can fly but because she picks away at her opponents like a bird nipping at road kill. She runs circles around defenders; forwards and centers look like clumsy giants in comparison.
Tyonna and Lauren are the first two seniors to formally commit to schools. In the coming months, Deja Hawkins, the center, will accept a full scholarship to Clemson, an incredible achievement considering that this time last year no one had heard of the 250-pound athlete. The other two seniors, Lydia Evans and Courtney Warren, will head to Virginia Union University.
Richardson stands in the corner, arms crossed, beaming at her two stars. If you were to ask her, she'd say days like this are why she does it—why she spends hours a day reviewing game film, why she takes time away from her family.
"Of course I want to win, and of course I want to do well," she says. "But when they step out on the court, they're not just fighting to win a game—they're fighting for an opportunity to go to college. That's what I'm here to teach them."
Next:The Crusaders face their biggest game of the season
It's mid-February—more than a month is left in the season—but today's game against St. John's feels like the championship. The Crusaders have been psyching themselves up for days, and now their teachers and classmates are starting to feel the electricity. "Are you ready, Tyonna?" one girl asks in the hall. "Get 'em, Crusaders!" a boy shouts. "We're number one!"
Not yet—that's what this game will help decide. According to the Washington Post's midseason rankings, the St. John's Lady Cadets are number one in the region, a position Riverdale has held in the final rankings for the past two years. Because of an early-season loss to Archbishop Spalding, the Crusaders have fallen to fifth.
The school is expecting a standing-room-only turnout. They've added bleachers behind the end lines and carted in risers from the choir room. Fold-out chairs are jammed into corners. Halfway through the JV game, the gym is close to capacity. It practically shakes with excitement.
The Crusaders sit in a classroom eating a pregame meal of spaghetti, green beans, and carrots that Richardson brought from home. She has these meals down to a science: when and what the girls should eat and how much. She learned her lesson at a tournament a few years back after some of her players were rushed to the hospital with food poisoning from takeout Chinese.
It's mid-February—more than a month is left in the season—but today's
game against St. John's feels like the championship.

Now face to face with the game they've been awaiting for months, the girls consider the stakes. It's about more than just bragging rights and reclaiming what the Crusaders think is rightfully theirs. The Cadets are coming onto their turf, into their house, making the possibility of a loss—in front of their fans and parents, the reporters and cameras—all the more devastating.
As the JV game winds down, Nikki Lewis, one of the assistant coaches, ushers the players to the ice room for their pregame meeting. A light bulb flickers overhead, and the ice machine whirs every few minutes, making a loud tha-rump as it churns out fresh cubes. Lewis has placed a dozen chairs in a semicircle facing a whiteboard on which Sam Caldwell, Richardson's second-in-command, writes the game strategy. He's slow and meticulous, as if the outcome tonight might depend on his penmanship.
The girls file in, dressed in their white home uniforms, bubblegum-pink T-shirts, and sparkly high-tops. Nike sent new shoes and shirts for breast-cancer awareness, and Richardson asked each of her coaches to wear something pink, too.
In the quiet before the game, Caldwell takes them through the particulars—who will start, the plays they'll run, the biggest threats on the St. John's roster.
Then he takes a deep breath. The girls know what's coming: a reading from Scripture, something Caldwell does before every game. But today he seems hesitant.
Next: "I know each and everyone one of you is ready to fight."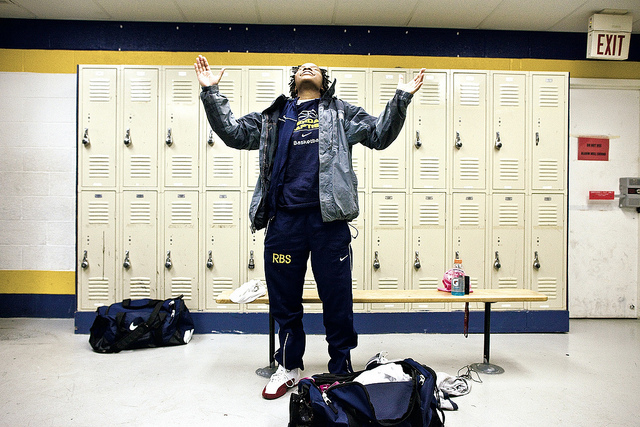 "I want to be able to take care of everybody—my grandparents, my brothers," Tyonna says. "And even though our time to shine hasn't got here yet, I just know it's in my hands."
"Today's Word doesn't come from the Bible," he says. "I want to tell you a war story—my war story."
On his first tour in the Gulf War, Caldwell was deployed with a helicopter team. One day he received orders to fly to a small town, where he was to drop off two guys and pick them up later—simple, he thought. But as he landed, Caldwell saw black smoke billowing from the back of the chopper. The tail rotor had been shot off; they were going down.
"That's the day I thought I was going to die," he says.
The girls are wide-eyed.
The helicopter crashed, and Caldwell and his team were met with enemy fire. His lieutenant was hurt. Caldwell saw his shin bone poking through his pants. "Mayday! Mayday!" he yelled into his radio. "We need support. Mayday!"
Help was 18 minutes away, he was told—they'd have to hold off the enemy, four against an army, if they had any chance of surviving.
"Then my commander said something I'll never forget, and it's what I want to tell you now," he says, eyes welling up. Caldwell pauses to compose himself. " 'Fight hard, gentlemen. Fight hard.' "
The girls erupt in whoops and shouts. They collapse around Caldwell just as Richardson comes in. As is her ritual, she's been sequestered with headphones and an iPod, spending a few minutes alone to get herself prepared. Now she's here to finish what Caldwell started.
"I'm in an alley fight tonight, ladies, and I know you all have my back," she says, her voice rising and falling with the cadence of a Southern preacher. "We're all in the alley tonight. We've come a long way, and I know each and every one of you is ready to fight."
The girls explode. Richardson begins jumping in place, and the girls bob around her, a ferocious sea of pink and white. "Yeah, yeah!" she yells. "Yeah, yeah!" they call back.
They're off.
Tyonna Williams can hardly contain herself after the game. She's all smiles and bounce, swelling with the energy that comes after you've just played the game of your life. The Crusaders came out strong and united, and Tyonna, full of swagger, put up a quick 11 points to take the lead. The Cadets were never able to recover. The final score: Riverdale 79, St. John's 55.
At the buzzer, students rushed the court. Parents were on their feet. Richardson and the other coaches clapped and hugged. Though nothing was official—the Crusaders wouldn't finish first in the Post's final rankings for a few weeks—shouts of "We're number one! We're number one!" bounced off the rafters.
An hour later, after media interviews and a receiving line of hugs and high-fives, Richardson was able to go home. She had a lot to think about in that hourlong drive, a highlight reel already playing in her head.
Late that night, she sat in front of her computer, her husband asleep in the next room. At 1 am, she logged onto Facebook and typed out a message to her team:
"So proud of my girls tonight. Both teams played very well; I'm still hyped. . .I don't care about rankings. All I know is that I have the greatest team in the country. Period."
This article appears in the June 2011 issue of The Washingtonian. Subscribe to Washingtonian
Follow Washingtonian on Twitter