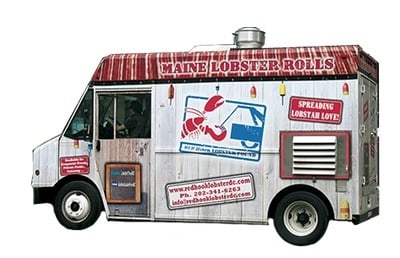 The lobster roll is becoming as ubiquitous as the mini-burger, inspiring high-end restaurants to embrace beach-shack eating. After sampling more than 20 around town—some costing as much as $29—we've picked our favorites.

Hank's Oyster Bar
1624 Q St., NW, 202-462-4265; 1026 King St., Alexandria, 703-739-4265.
The lobster roll ($23) at Hank's Oyster Bar is a bit fancier than its New England roadside counterparts—the toasted bun is carefully buttered and the mayo-bound salad boasts oversize chunks of lobster meat—but by keeping the ingredients simple, it does them justice.
Red Hook Lobster Pound
Last summer, Red Hook Lobster Pound debuted its food truck to hour-plus lines—which we waited in again and again. Why? For the butter-bound, lemon-spritzed Connecticut-style roll, a relative bargain at $15. Thankfully, Red Hook has added a second truck.

Freddy's Lobster & Clams
4867 Cordell Ave., Bethesda; 240-743-4257
Jeff Heineman opened Freddy's Lobster & Clams next to his wine bar, Grapeseed, just two months ago. But early visits to the buoy-decorated place show he's already a pro when it comes to cool, slightly lemony, ultra-fresh lobster rolls ($15).
This article appears in the July 2011 issue of The Washingtonian.