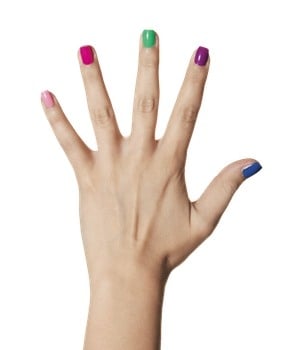 LONGEST-LASTING MANICURE
Coco Nails & Spa
820 N. Pollard St., Suite 2B, Arlington; 703-351-7779
Imagine a manicure that's instantly dry and lasts two weeks—on natural nails. That's what shellac, also called a gel manicure, offers.
Various brands, including Axxium and OPI, are available; our favorite is CND. The polish, which comes in about 20 colors, is dried under ultraviolet light between coats. It's about 1½ times the price of a regular manicure and is easiest to remove at a salon.
Some doctors have expressed concern that extended exposure to the UV light can be bad for skin and that the acetone used to remove the polish can dry skin and nails. We have noticed some nail weakening if we use the service too frequently. We'd recommend it for a special occasion or for when you're traveling.
We're fans of the shellac manicure ($35) at Arlington's Coco Nails & Spa; it comes with a hot-stone massage.
BEST ECO-FRIENDLY MANICURE
The Emerald Door
8311 Grubb Rd., Silver Spring; 301-587-5800
Many Washingtonians shop for organic vegetables and put environmentally friendly bug spray on their children, so why should nails be different? That's the philosophy behind the Emerald Door, a luxurious and eco-friendly Silver Spring nail salon.
Offering white-on-white decor, a bar-style nail setup, and plush pedicure chairs with hospital-grade sterilization, this nail spa is clean and stylish. An Essential manicure ($25; 30 minutes) includes a gentle scrub, a warm towel, a massage, and your choice of eco-friendly Zoya polish.
MOST PEACEFUL PEDICURE
Sesen Spa
111 Church St., NW, Suite 202, Vienna; 703-281-0822
You can find cheaper pedicures, but you may not find one as soothing and sanitary as at Sesen Spa in Vienna.
On a Saturday, when rain pelted the windows, the spa was serene: Calm music and a gentle waterfall drowned out the noise of the rain. While the staff was friendly, there was no idle chitchat; clients relaxed with magazines.
Sesen offers a range of spa services, but it's known for pedicures: The eight massage chairs are disinfected after each use; a fresh pack of sterilized nail tools is opened for each client. A basic pedicure is $29; for $36 you can choose a pedicure with a soak and scrub that's scented—say, mojito or chocolate.
DRINKING IN CHEAP PRICES
Mimosa Salon & Spa
1706 Connecticut Ave., NW, Second Floor; 202-232-6900
At Mimosa Salon & Spa, $39 will get you not just a good manicure/pedicure but also bottomless glasses of wine or Champagne.
The bright coral and avocado walls and carousels of trendy polish organized by color keep the tidy space as energetic as the young Dupont Circle professionals it serves. Cushy massage chairs and hand and foot massages by friendly technicians make it easy to unwind. Other nail services, such as a French manicure ($19), are reasonably priced, too.
BEST DIRT-CHEAP NAILS
Envy Nails
3723 Georgia Ave., NW; 202-723-0463.
Envy Nails doesn't exactly roll out the royal treatment for its customers, but we're okay with that. When the price of a mani-pedi combo is $21—and a manicure just $10—you can forget about hot towels, up-to-date magazines, and cucumber water.
The nail salon, in DC's Petworth neighborhood, is busy but clean. The nail-polish selection isn't broad or trendy, but if you bring your own, you'll leave with such nicely done nails that it'll look like you paid twice the price.
SPIFFY AND CLEAN
Acqua Nails
4701 Sangamore Rd., Bethesda, 301-320-6245; 7845 Old Georgetown Rd., Bethesda, 301-654-1608; 1855 Wisconsin Ave., NW, 202-337-0865
If it's all in the details, the detail we care about at a nail spa is cleanliness. Acqua Nails offers peace of mind—instruments are sterilized under high heat, and the technician always opens a freshly zapped packet of manicure tools before your eyes. On our last visit to the recently expanded Sangamore Road salon, the foot bath was given a wipe with pleasant-scented cleaner.
We always find a color to love—from neon blue to edgy gunmetal gray to classic lipstick red—and when we're at a loss, technicians usually know what we're after. A mani-pedi, including an exfoliating scrub and a massage, is $38; a manicure alone is $15, a pedicure $27.
BEST COUPLES MANICURE
Patsy's Nail Bar
1926 I St., NW; 202-466-2457
While women will like Patsy's Nail Bar for the tiny details—pre-labeled tip envelopes, flip-flops you can wear home for $2—it's the upstairs area the owners have dubbed the "man cave" that makes us a fan of this Foggy Bottom spot. Here, couples can relax after work with a big-screen TV (you pick the channel), free wi-fi, complimentary beer and snacks, and a friendly staff that keeps women in the latest colors and cleans up men's nails without making them look overly polished. If the salon would just drop their prices a bit—they're $48 per pedicure, $28 for a manicure—we'd be in more often.
This article appears in the July 2011 issue of The Washingtonian.