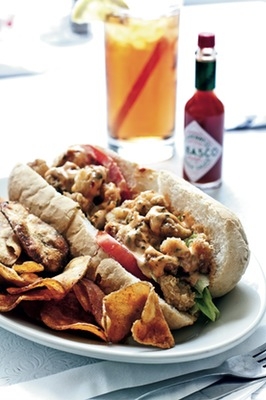 BEST CLASSICS
PassionFish
11960 Democracy Dr., Reston; 703-230-3474
It's straight Louisiana when it comes to the po' boy at PassionFish. Plump oysters, brought in from that state, get a thin corn-flour crust and a dunk in the fryer before landing inside a Leidenheimer Baking Company roll with shredded lettuce, tomatoes, mayo, and pickles. On the side comes a bag of Zapp's jalapeño potato chips—from Louisiana.
The Cajun Experience
14 Loudoun St., SE, Leesburg, 703-777-6580; 1825 18th St., NW, 202-558-9230
At the Cajun Experience, there are more than ten stuffings for po' boys—including alligator and fried veggies—but the traditional renditions with fried shrimp and fried oysters make for a virtual trip to Bourbon Street.
BEST ROAST-BEEF VERSION
Bayou Bakery
1515 N. Courthouse Rd., Arlington; 703-243-2410
The po' boy at Bayou Bakery, chef/owner David Guas's ode to his native New Orleans, is stuffed with braised top-round beef from Virginia, Swiss cheese, and sautéed onions. Thanks to a healthy dose of gravy, the sandwich is called the Arm Drip.
BEST NONTRADITIONAL
Addie's
11120 Rockville Pike, Rockville; 301-881-0081
At Addie's, chef/owner Jeff Black may not heed tradition with his fried-oyster po' boy—a grilled ciabatta in place of a floury roll, the addition of pickled red onions—but the result is a deliciously messy sandwich.
BEST FRIED-FOOD-FREE
Jackson 20
Hotel Monaco, 480 King St., Alexandria; 703-842-2790
At Jackson 20, chef Dennis Marron's interpretation includes a mammoth sub roll and a poached-shrimp salad. It's heavy on dressing, but that's a good thing: The delicious Louis sauce binding the shrimp is made with vinegary cornichons and fiery cayenne, and the salad is finished with chives.
BEST VALUE
Eatonville
2121 14th St., NW; 202-332-9672
The generous lunchtime po' boy at the Zora Neale Hurston–inspired Eatonville—fried shrimp and oysters with diced tomatoes, shredded romaine, rémoulade—and its side of crispy Cajun fries could be two meals. Even better? It's just $10.
This article appears in the July 2011 issue of The Washingtonian.
Subscribe to Washingtonian
Follow Washingtonian on Twitter

Follow the Best Bites Bloggers on Twitter
More>> Best Bites Blog | Food & Dining | Restaurant Finder