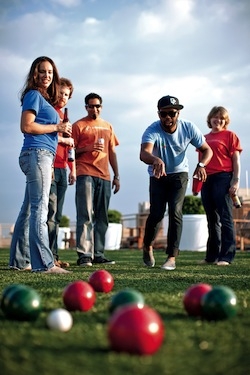 Washington's beer boom isn't happening just in bars: There are lots of new local breweries these days, and more are on the way.
With summer sipping in mind, we gathered eight American-style pale ales produced in this area. Then we recruited five leaders of the DC Bocce League—all well versed in the sudsy stuff from their beer-sponsored matches—to pick a winner in a blind tasting.
Two beers from new breweries—Alexandria's Port City Brewing Company Essential Pale Ale and Lord Wimsey's Mild Pale Ale from Baying Hound Aleworks, a "nanobrewery" in Rockville—tied for first. In a face-off, Port City's ale won for its floral fragrance and crisp but mild drinkability ($9.99 for a six-pack at Whole Foods). Lord Wimsey, the group agreed, was "like Christmas in July": creamy and spicy. But DC Bocce cofounder John Groth noted: "If someone was expecting a pale ale and got this, they might be disappointed." It's sold by the 22-ounce bottle (about $5 to $6) in DC and Maryland liquor stores including Connecticut Avenue Wine & Liquor near Dupont Circle and Capital Beer & Wine in Bethesda.
Third place went to Pale Rider Ale by Capitol City Brewing Company in Shirlington ($21 for an 80-ounce growler), which won points for its subtle sweetness.
There was less agreement about the rest. The Public, an ale by DC Brau, was voted tops by one tester, while another said, "It tastes bitter, like an old quarter." Flying Dog's Doggie Style Classic Pale Ale and Heavy Seas Clipper Fleet Pale Ale were deemed "chill" at best and "boring" at worst. A bitter aftertaste was a problem with Mad Fox Brewing Company's Defender American Pale Ale, which came in second to last.
The least favorite? Hook & Ladder's Flashpoint Pale Ale. Lamented one bocce player: "It smells—and tastes—like socks."
This article appears in the July 2011 issue of The Washingtonian.