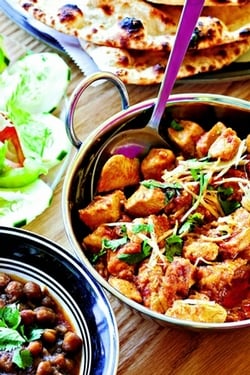 The paper plates and plastic cutlery are signals that Malik's Kabob and Cafe is for people who care more about flavor than atmosphere. Evening visitors might find the cafe filled with floral-smelling hookah smoke.
But the kitchen takes pride—and shows skill—in preparing traditional Middle Eastern and Indian dishes. One person behind the counter brags that the chicken tikka masala ($8.99), served with tandoori bread and a side salad, is famous in the area. The dish gets some of its heat from the jalapeños found in many dishes here, and the complex spicing is nicely tempered by a creamy tomato sauce.
Kebabs—served with tandoori bread, rice, chickpeas, and a small salad—make up much of the menu. Standouts are the juicy boneless marinated chicken ($9.50) and the flavor-packed potato kebabs ($7.99). Ground beef ($9.50) and chunks of lamb ($9.50) were full of flavor but on the dry side. Three butterflied lamb chops ($12.99) are a better choice.
The knockout Lahori chicken karahi is the only course served in a non-disposable vessel—perhaps because karahi refers to the double-handled metal serving dish. The rich gravy is brightened by fresh ginger and cilantro, and the luscious chicken can be ordered boneless ($16.99) or bone-in ($14.99).
Vegetables get their due with starters such as a pea-and-potato-stuffed samosa (two for $3) with a wonderfully flaky crust, and papri chaat ($4.99), a cool toss of chickpeas, tomato, jalapeño, diced potato, house-made papri (dough that's baked and left to get crunchy), and tamarind chutney. The kitchen's take on hummus—drizzled with olive oil, sprinkled with paprika, and served with warm tandoori bread—is one of the area's better versions of the dip. Spend your calories on this appetizer rather than forgettable desserts. Besides, it's more fun to leave with your tongue still pleasantly stinging from all those chilies.
Malik's Kabob and Cafe, 9542-B Arlington Blvd., Fairfax; 703-246-9005. Open daily 11 am to midnight.
This article appears in the July 2011 issue of The Washingtonian.
Subscribe to Washingtonian
Follow Washingtonian on Twitter
Follow the Best Bites Bloggers on Twitter
More>> Best Bites Blog | Food & Dining | Restaurant Finder