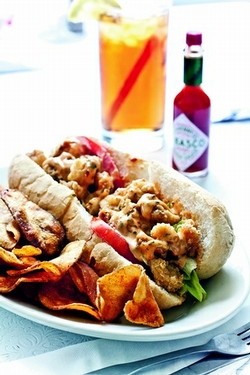 Washingtonians will have a new way to ride the Cajun-food craze (see: Bayou, TruOrleans, Bayou Bakery) when Cajunātors—a truck hawking all kinds of N'awlins eats—rolls out in the District in a few weeks.
Owner Lloyd Blanchard, a Big Easy native, left Louisiana for Washington last April and operated the Dangerously Delicious Pies truck for the past nine months. After a second pie truck launched earlier this month, Blanchard took the original vehicle to venture out on his own.
"It's my heritage," says Blanchard. "And it's the best kind of food out there."
Truckeroo-goers got a preview last week of what Blanchard calls a "Jazz Fest kind of menu." Think crawfish étouffée, jambalaya, shrimp with sauce piquant, and alligator cheesecake (Cajun speak for morsels of alligator sausage tucked inside a quiche-like pie). And of course, there'll be a rotating selection of po'boys: fried shrimp and oysters, braised roast beef with gravy, meatball, alligator, and andouille sausage.
There'll also be lighter fare, such as cool watermelon-ginger soup and crawfish pasta salad as well as lemonade, minted sweet tea, and Barq's Root Beer, which Blanchard swears is the perfect po' boy pairing.
Blanchard is still finalizing details—namely trying to perfect proper po'boy loaves with a local bakery—but the hopes to roll out the first week of August. Check back with our food truck tracker for locations, or just follow the sounds of James Booker and Walter "Wolfman" Washington emanating from the Cajunātors' speakers.
Subscribe to Washingtonian
Follow Washingtonian on Twitter
Follow the Best Bites Bloggers on Twitter
More>> Best Bites Blog | Food & Dining | Restaurant Finder