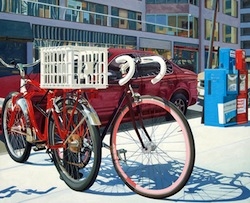 Monday, July 25
BEER: A bit of friendly competition is coming to Birch & Barley for their "Chef Face-Off and Bottle Battle" five-course dinner. Join Firefly Executive Chef Daniel Bortnick and Kimpton Restaurants' Master Sommelier Emily Wines as the two go head-to-head with Birch & Barley's own Chef Kyle Bailey and Beer Director Greg Engert. The menu includes tomato and basil salad, corn tortellini with Maryland crab, pan-roasted halibut, braised lamb belly, and almond pound cake. But the real winner will be the Susan G. Komen Foundation; all proceeds will benefit their Three-Day Walk for the Cure. Tickets ($150) can be purchased at the event Web site. 6 to 10 PM.
Tuesday, July 26
FILM: Don't miss the first night of Bethesda's week-long outdoor movie festival. First up is the '80s cult-classic The Breakfast Club. A brain, a beauty, a jock, a rebel, and a recluse are forced to spend a Saturday together in high school detention. The five bare their souls to each other then band together against the principal. The free film begins at 9 PM on the corner of Norfolk and Auburn Avenues.
Wednesday, July 27
ART: Gallery Plan B is hosting a reception for its new exhibit "Local Color," an eclectic collection of work depicting DC neighborhoods. Featured artists include Chad Andrews, Michael Crossett, Ron Donoughe, Charlie Gaynor, Isabella Spicer, to name a few. Free; 6 PM to 8 PM.
Thursday, July 28
MUSIC: Believe it or not, tickets are still available for Keith Urban's concert at the Verizon Center. The country singer has won several Grammy Awards, Country Music Association Awards, and a People's Choice Award. Tickets (starting at $41) can be purchased at the event Web site. 7:30 PM.
Subscribe to Washingtonian
Follow Washingtonian on Twitter
More>> After Hours Blog | Arts & Events | Happy Hour Finder | Calendar of Events