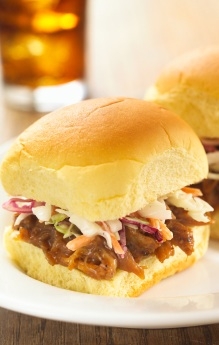 Bottle Bash at Birch & Barley: Monday, July 25; 6:30
Beer and wine go head-to-head during a five-course dinner where both drinks are paired with each dish. Birch & Barley chefs Kyle Bailey and Tiffany MacIsaac and Firefly's Danny Bortnick are cooking dinner, and Kimpton Hotels' sommelier Emily Wines (yes, that's her real name) and Neighborhood Restaurant Group's beer director Greg Engert are picking the booze. While Wines and Engert won't release their choices until tonight, the chefs are preparing such dishes as king-salmon tartare in mustard-seed cones; corn tortellini with crab and rapini; braised lamb belly with squash blossoms; and almond pound cake with blueberries and sweet-corn ice cream. Guests will vote on the best food-and-drink pairings. All proceeds from the tickets ($150 per person) go to the Susan G Komen 3-Day Walk for the Cure. Click here for a full menu and to make reservations.
Barbecue and Booze on the Patio at Café Saint-Ex: Monday, July 25 (runs through August)
The kitchen at this 14th Street restaurant is closing today for a four-week renovation, but you can still order drinks on the patio, including beer-booze combinations such as the "Moscow Beer" with Peroni, ginger beer, and lime juice. Chef Billy Klein will stoke the outdoor grill for Korean and Carolina-style barbecue-pork sliders as well as sandwiches, burgers, sausages, and steaks. Check the restaurant's Twitter feed and Facebook page for updates on menus and pop-up patio picnics.
Food & Folklore Series, Punch at Eatonville: Tuesday, July 26; 6:30
Room 11 bartender Dan Searing, author of the new book The Punch Bowl: 75 Recipes Spanning Four Centuries of Wanton Revelry, is at Eatonville for a three-course dinner and sampling of punches. Learn about the history and lore of punches from around the world while sipping the likes of Tchoupitoulas from New Orleans, George's Chatham Artillery, and a Jamaican variety. Dishes include pimento-crusted squab with spiced carrots and saffron-coconut cream as well as double-chocolate fudge cake. For tickets ($45) and more information, click here. The book will be available for purchase and signing.
Free Gelato at Casa Nonna: Thursday, July 28; 1 to 2 PM
To celebrate the opening of its outdoor gelato cart, Casa Nonna is serving complimentary scoops of seasonal flavors such as fig-and-vin-cotto swirl and nocciola. You can get your gelato fix right in front of the restaurant daily from noon to 6 until the weather turns cold.
Charcuterie-and-Pickling Class at WestEnd Bistro: Saturday, July 30; noon to 2
Chef Joe Palma and general manager Amy Troutmiller are leading this two-hour event, which includes beer and wine. It starts with a talk by Alex Bradford of Leaping Waters Farm, who'll discuss pig breeds, then Palma will teach participants how to arrange charcuterie platters, smoke and cure meat, and make pork terrine and pork rillettes. Troutmiller will give a demonstration on how to pickle vegetables such as green beans, rainbow beets, and pearl onions. Guests will take home samples of everything. The class ends with a lunch. Call 202-974-4900 for reservations ($75).
Celebrate Summer Tomatoes With Carla Hall at Alchemy (8810 Brookville Rd., Silver Spring): Saturday, July 30; 12:30 to 2:30
At her catering headquarters, Top Chef alum Carla Hall is cooking a four-course lunch with wine that celebrates summer tomatoes. Dig into dishes such as roasted-tomato risotto with burrata cheese and basil; braised pork shoulder in tomato-corn broth with cilantro gremolata; and pound cake with vanilla ice cream and tomato-strawberry compote. Guests will take home recipes for those dishes. Click here for more information about the event, co-hosted by the American Institute of Wine & Food ($75 members; $85 non-members). Call Nadyne Cheary for reservations at 301-598-5677 or contact her at ncheary@yahoo.com.
Subscribe to Washingtonian
Follow Washingtonian on Twitter
Follow the Best Bites Bloggers on Twitter
More>> Best Bites Blog | Food & Dining | Restaurant Finder