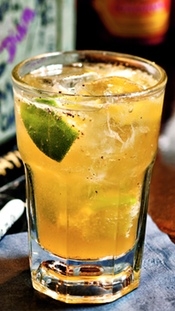 On summer's hottest days, it can be hard to get jazzed for intense and hop-heavy craft beers. Even light and crisp brews can seem too much amid the humidity.
Beer cocktails can be more refreshing. The English like to mix a light lager with lemonade to make a shandy. The Red Eye combines tomato juice with beer. But nothing tops the Mexican cerveza preparada (Spanish for "prepared beer") known as a michelada, a light pilsner poured over a glass of ice with lime and tomato juices, hot sauce, and salt and pepper. As with Bloody Mary recipes, additions abound—Worcestershire sauce, Clamato.
Micheladas appear on a few brunch menus locally. Our favorite is at the Passenger in downtown DC, which forgoes tomato juice to make a slightly salty drink with subtle heat. The best thing about michelada there? You likely have everything you need to make one at home.
The recipe below uses Cholula hot sauce, which adds good flavor without being too spicy. Tapatío or another hot sauce works, too, but you might want to use a little less to tone down the heat.
The Passenger's Michelada Cocktail
3 lime wedges
¼ teaspoon Cholula hot sauce
Salt and pepper to taste
Ice as needed
1 bottle light-flavored beer, such as pilsner or lager (the Passenger uses Schlitz).
Squeeze the limes, and then muddle the wedges in the bottom of a pint glass to help release their oils. Add the hot sauce, salt, and pepper, and mix lightly. Fill the glass with ice, top with beer, and lightly stir to combine. Taste and adjust seasoning as necessary. (The drink can handle a surprising amount of salt.)
This article appears in the August 2011 issue of The Washingtonian.
Subscribe to Washingtonian
Follow Washingtonian on Twitter
Follow the Best Bites Bloggers on Twitter
More>> Best Bites Blog | Food & Dining | Restaurant Finder