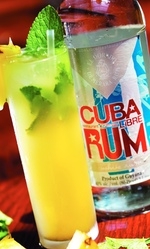 DC Restaurant Week: Monday, August 15, through Sunday, August 21
You know the drill: lots of restaurants are offering three-course lunch ($20.11) and dinner ($35.11) menus. Visit the Web site for a list of participating venues, and see our collection of Restaurant Week menus.
National Rum Day Celebration at Cuba Libre: Tuesday, August 16; 4:30 to 6:30
At this Penn Quarter restaurant, 90-plus rums or rum-based cocktails are 50 percent off. Aficiandos can look for rarer finds such as the Cuba Libre 21-year "Special Reserve" rum, and there are plenty of flavored daiquiris, mojitos, and other Tiki-type drinks. Click here for the menu (*PDF).
Alexandria Restaurant Week: Friday, August 19, through Sunday, August 28
Take advantage of more Restaurant Week deals at places in Del Ray, Old Town, and other Alexandria neighborhoods. Participating restaurants include A La Lucia and Bastille—where dinner is $35—as well as Pizzeria Paradiso and Cheesetique, where the same tab covers two people. Visit the event's Web site for a list of restaurants and menus.
DC Scoop Ice Cream Competition at Union Market (Florida Ave. and Sixth St., NE): Saturday, August 20; 1 to 4 PM
Vote for your favorite ice cream, gelato, and frozen custard with free samples from vendors such as Dolcezza, Sinplicity, and Georgetown Scoops. There'll be activities for kids, including face painting and balloon making. Customers under 21 can participate in an ice-cream-eating competition. Visit the event's Facebook page for more information.
Crab and Beer Festival at National Harbor: Saturday, August 20; 11 to 3 and 5 to 9
At the second annual National Harbor festival, there are all-you-can-eat crabs, all-you-can-drink beers, live music, a water-balloon toss, and more. Alongside the crabs, there'll be hot dogs, barbecue, corn, slaw, and potato chips; brews include Heavy Seas Loose Cannon and DuClaw Venom Pale Ale. There are a variety of packages for both sessions available to purchase on the event's Web site, though some are sold out.
Breakfast, Panel Discussion, and Market Visit at Bethesda Green (4825 Cordell Ave., Bethesda): Sunday, August 21; 9:30 to 1
Learn more about the local and sustainable food system during a breakfast and panel discussion with restaurateur Jeff Black (BlackSalt, Addie's, Black Market Bistro, Black's Bar and Kitchen), Shannon Varley of Bella Terra Family Farm, Bethesda Green's director Dave Feldman, and others. Afterward, there's an optional trip to the nearby Central Bethesda Farm Market to meet the owner and tour the grounds. Visit the event's Web site for more details, and to purchase tickets ($25), click here.
Subscribe to Washingtonian
Follow Washingtonian on Twitter
Follow the Best Bites Bloggers on Twitter
More>> Best Bites Blog | Food & Dining | Restaurant Finder