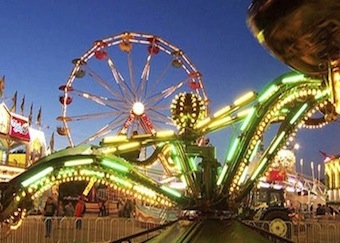 Monday, August 15
BEER: DC Beer Week is in full swing, and we've got some hoppy suggestions for your Monday night. Meridian Pint is hosting an Art Beer Dinner paired with Steve Frazier's brews from 7 to 10 PM. The five-course spread includes tomato consomme, lobster and cantaloupe salad, barbecued duck, crispy prosciutto, and raspberry creme brulée. Click here to purchase tickets ($50). If you're looking for something a bit more educational, stop by Bread & Brew for a crash course in "Beer and Brewing 101" with Flying Dog. At 7:30 PM, the Frederick brewery's DC sales expert, Tom Hunter, will be divulging the company's techniques during a tap takeover. Sip on rare Flying Dog brews, learn about the fine art of craft beer, and enjoy organic beer-battered onion rings and fondu. Check out DC Beer Week's calendar for a complete list of events.
Tuesday, August 16
FESTIVAL: If you haven't already, round up the whole family for the 63rd annual Montgomery County Agricultural Fair. Today's events include a cheese-carving contest at 10:30 AM, pig races at noon, honey bee demonstrations at 4 PM, Jersey cattle judging at 6 PM, and a whole lot more. Click here for the entire list of attractions. Tickets ($10, Free for children 11 and under) can be purchased at the fair grounds. The fair runs through August 20; 10 AM to midnight.
Wednesday, August 17
MUSIC: Jazz trumpeter Chris Botti is bringing his soothing melodies to the Wolf Trap. The Grammy Award winner has performed with an enviable list of musicians including Frank Sinatra, Sting, Paul Simon, and Steven Tyler, to name a few. You can listen to some of his tracks here. For tickets ($25 lawn, $42 in-house), go to the event Web site. 8 PM.
Thursday, August 18
SHOPPING: The Arlington thrift store Current Boutique is hosting their Sip and Shop Bash today. Early bird shoppers can enjoy cookies and fresh-squeezed lemonade from noon to 6 PM, while night owls can get their sugar fix with cupcakes and champagne. Best of all, you'll save 20 percent off any purchase—a sweet deal worth toasting to.
Subscribe to Washingtonian
Follow Washingtonian on Twitter
More>> After Hours Blog | Arts & Events | Happy Hour Finder | Calendar of Events