The design firm JD Ireland enlarged a postcard to create a wall covering in this Logan Circle condo. The postcard photo, taken in 1939, shows the USS Akron flying over the Capitol. Photograph by Stacy Zarin-Goldberg
Sometimes the key to a beautiful room is as simple as one great piece of art.
"Art makes even the most boring rooms more chic," says DC designer Zoe Feldman.
Yet for some homeowners, a blank wall can inspire fear and uncertainty. Marsha Mateyka, an art historian and owner of the Marsha Mateyka Gallery in Dupont Circle, tells novice collectors to start by visiting museums and galleries.
"Pay attention to what you respond to," says Mateyka, who also recommends returning a few times to a piece you like to make sure your reaction isn't fleeting. If you define your taste before you buy, you'll avoid remorse.
Designers say not to worry about finding artwork that fits in perfectly with your color scheme or style. "Art is not about matching colors but rather about balance and proportion in a room, what it means to you and the feeling you get from it," says Feldman.
If you fall in love with a piece that's out of your price range, Mateyka suggests speaking to the staff. The gallery may carry other work by the artist that's not on display or is in a different medium. Prints are a lower-cost option.
Robyn Goodwin, manager of the Old Town Manassas visitors center, describes herself as an "accidental art collector." Her husband, a professor at George Mason University, read a student paper about local artist Sheep Jones and decided to visit Jones's studio at the Torpedo Factory Art Center in Old Town. He bought a 12-by-12-foot oil painting on the spot. That was more than a decade ago. Twenty-five pieces of Jones's contemporary works now adorn the walls of Goodwin's Manassas home, and Goodwin's sister and mother have also become collectors. "I fell in love with Sheep's art, her sense of color, her whimsy and imagination," she says. "Her paintings make me happy just looking at them."
Goodwin hits on the simplest and most important rule: Buy what you love.
To come up with this list of art galleries and studios, we asked interior designers, gallery owners, and artists where they buy artwork. We also talked to them about stores for beautiful lighting, rugs, and one-of-a-kind accessories—other pieces that can really make a room.
The Washington Project for the Arts is a great resource—its online directory (artfile.wpadc.org) lists more than 700 local artists and includes examples of their work. Fine-art festivals, juried art shows, and art departments and galleries at universities are also good places to find original artwork.
—–

ART GALLERIES AND STUDIOS


1670 Wisconsin Ave., NW; 202-338-5180
This gallery focuses on contemporary painting, sculpture, photography, and prints by local and internationally recognized artists.
Arlington Arts Center
3550 Wilson Blvd., Arlington; 703-248-6800
A former school, this space is one of the largest non-federal venues for contemporary art in the area. You'll find nine exhibition galleries and working studios for 13 artists.
The Art Registry Gallery
3146 Dumbarton St., NW
Popular with interior designers, this gallery features contemporary art by established and emerging artists in bimonthly exhibitions.
Avery Studios
1255 25th St., NW, Suite 1020; 202-506-4180
Traditional oils and works on paper mainly from France, Russia, and the United Kingdom. Most date from the 18th century to the middle of the 20th.
G Fine Art
1350 Florida Ave., NE; 202-462-160
This ten-year-old gallery showcases contemporary and international art from the 1960s to the present, with an emphasis on artists who explore cultural issues and push the boundaries of traditional media. You'll find work by both emerging and established artists.

Gallery 555dc
555 12th St., NW; 202-393-1409
This sleek glass-and-steel gallery showcases contemporary oils, ceramics, and glasswork by up-and-coming local artists.
Greater Reston Arts Center
12001 Market St., Suite 103, Reston; 703-471-9242
This arts space highlights contemporary artists from the Mid-Atlantic in exhibits every six weeks. It's also home to the Northern Virginia Fine Arts Festival, a juried event that attracts artists from across the country every spring.
Hemphill Fine Arts
1515 14th St., NW, Suite 300; 202-234-5601
This gallery promotes contemporary art in a variety of media from emerging, mid-career, and established artists such as William Christenberry and John Dreyfuss. It also holds exhibitions of historically significant artwork and socially relevant subjects; a recent exhibit by Anne Rowland of photos taken near her rural Virginia home highlighted humans' intrusion on nature.

Irvine Contemporary
1412 14th St., NW; 202-332-8767
Contemporary works by early- and mid-career artists with growing national and international reputations. Among the artists represented is Shepard Fairey, who created the Barack Obama "Hope" poster during the 2008 presidential campaign.
Marsha Mateyka Gallery
2012 R St., NW; 202-328-0088
Gallery owner and art historian Marsha Mateyka has been showcasing artists who specialize in contemporary painting, sculpture, photography, and works on paper for more than 25 years.
Orchard Gallery
7917 Norfolk Ave., Bethesda; 240-497-1911
This space features local, national, and international artists, exhibited monthly. Recent shows have included steel sculpture, French landscapes, and works from Japan. Also specializes in custom framing.
Pyramid Atlantic
8230 Georgia Ave., Silver Spring; 301-608-9101
This contemporary arts center is dedicated to papermaking, printmaking, digital arts, and the art of the book.
Susan Calloway Fine Arts
1643 Wisconsin Ave., NW; 202-965-4601
While this Georgetown gallery focuses on traditional work, it also represents a handful of abstract artists. Archival framing, including hand-painted French mats for works on paper, is also available.
Torpedo Factory Art Center
105 N. Union St., Alexandria; 703-838-4565
In a former factory, this space houses 82 artist studios and six galleries and showcases work in a variety of media including painting, ceramics, photography, jewelry, stained glass, fiber, printmaking, and sculpture. Also offers art classes for adults and children.
Waverly Street Gallery
4600 East-West Hwy., Bethesda; 301-951-9441
Juried members of this gallery include painters, sculptors,
photographers, printmakers, potters, and jewelers. It hosts new exhibitions monthly.
Workhouse Arts Center
9601 Ox Rd., Lorton; 703-584-2900
This former correctional facility provides studio and gallery space for more than 120 established and emerging artists. In addition to regular exhibitions, it offers concerts, acting classes for kids, and more.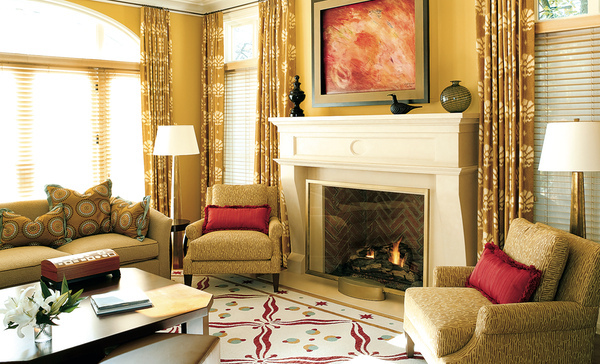 Designed by Skip Sroka, this Bethesda living room features a painting that rolls up to reveal a flat-screen TV. Photograph by Stacy Zarin-Goldberg
ONE-OF-A-KIND ACCESSORIES
A Mano
1677 Wisconsin Ave., NW; 202-298-7200
This store stocks gorgeous items for your table: handmade French and Italian ceramics, decorative candlesticks, treasure boxes, paperweights, and more.
And Beige
1781 Florida Ave., NW; 202-234-1557
Art meets home accessories. As the name suggests, most of the pieces are in a neutral palette and emphasize texture, pattern, and shape. Iron antler candlesticks ($69 to $880) and iron-and-gold-leaf sea-urchin dishes ($44 to $94) are particularly interesting.
Eclectic Elegance Home Décor & Staging
817 W. Broad St., Falls Church; 703-536-4663
eclecticelegancedecor.blogspot.com. Among the antique, vintage, and new items are hand-tinted engravings, vases, candlesticks, statues, pottery, and china and porcelain from Europe and Japan.
Miss Pixie's Furnishings & Whatnot
1626 14th St., NW; 202-232- 8171
Inventory at this vintage-furniture store is bought at auction and constantly changes. Recently for sale: mix-and-match blue-and-white tableware ($5 to $45), pastel ice-cream-parlor chairs ($35 each), and loads of silverplate ($5 to $35).
The Old Lucketts Store
42350 Lucketts Rd., Leesburg; 703-779-0268
This three-story house with wraparound porch features a large collection of furniture, architectural elements, art, lighting, and trinkets in a variety of styles. The store also runs the Design House (14394 James Monroe Hwy.), a monthly interior-design showcase where everything in the house is for sale.
Pear Tree Cottage
130 Maple Ave. E., Vienna; 703-938-1331
On Vienna's main street, this small delight offers antique, vintage, and new pieces for home and garden. Merchandise changes weekly, but we saw French wire baskets, vintage French linen pillows, and aged leather-bound books.
Random Harvest Antiques & Home Furnishings
Georgetown, 202-333-5569; Bethesda, 301-280-2777; Alexandria, 703-548-8820; Arlington, 703-527-9690
This local chain stocks antique, vintage, and new furniture and accessories. It's also a treasure trove for mirrors, lamps, pillows, and decorative objects.
A Show of Hands
2301 Mount Vernon Ave., Alexandria; 703-683-2905
The one-of-a-kind pieces at this Del Ray store include handmade wall art, blown glass, thrown pottery, and quilts—all made by local artisans.
Skynear Designs Gallery
2122 18th St., NW; 202-797-7160
Housed in an 1890s rowhouse in Adams Morgan, this store carries vintage and new items from around the world such as antiques, artisan-made pillows, wall art, and Far East artifacts.
Tone on Tone
7920 Woodmont Ave., Bethesda; 240-497-0800
The specialty here is 18th- and 19th-century painted Swedish antiques, ironstone china, and garden art, with most items in a neutral palette. You'll also find unusual furniture, mirrors, and accessories that complement traditional and contemporary pieces.
Trohv
232 Carroll St., NW; 202-829-2941
This new branch of a Baltimore store, just over the DC line from Takoma Park, emphasizes local and regional artists, with one-of-a-kind items alongside vintage goods and unexpected finds such as a beautiful ceramic bowl filled with wooden clothespins.
—–

INTERESTING LIGHTING
The Brass Knob Architectural Antiques
2311 18th St., NW; 202-332-3370
Vintage fixtures—Victorian chandeliers, Art Deco sconces, midcentury-modern pendant lamps—that can add sparkle to a home.

Ikea
2901 Potomac Mills Cir., Woodbridge, 703-494-4532; 10100 Baltimore Ave., College Park, 301-345-6552
This bargain home-furnishings store carries sleek modern Swedish and Euro-inspired lighting—we like the mouth-blown glass globe lamp called Fado ($20). Many track and spotlighting options are also available.

Illuminations
3323 Cady's Alley, NW, 202-965-4888; 415 Eighth St., NW, 202-783-4888
An interior-designer favorite, Illuminations is like a gallery where the lights are art. It features the newest technology, stylized fixtures, and designer brands such as Viabizzuno, Artemide, and FontanaArte.
Muléh
1831 14th St., NW; 202-667-3440
Muléh, which means "to come home" in Javanese, carries Southeast Asian–inspired lighting with a modern twist. Fixtures feature clean lines and rich textures and are often made from natural materials such as mulberry-tree bark, rattan, bamboo, and cotton.
—–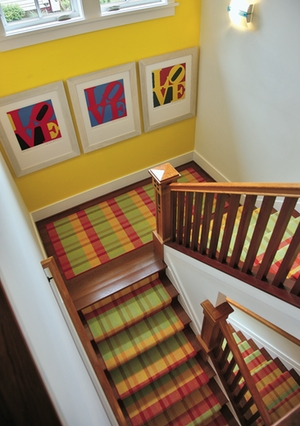 ART FOR THE FLOOR
AnnMaria Baldine, Gallery la Musa
5345 Wisconsin Ave., NW; 202-537-5000
Artist AnnMaria Baldine designs handmade rugs and tapestries, including custom orders. You'll also find a handmade selection in wool and silk.
Odegard
300 D St., SW, Suite 519; 202-484-5888
Part of the Washington Design Center, this showroom features high-end, handmade carpets from Nepal. Owner Stephanie Odegard was a founding board member of GoodWeave USA, a nonprofit committed to ending illegal child labor in the carpet industry.
Timothy Paul Carpets & Textiles
1404 14th St., NW; 202-319-1100
This designer favorite feels more like an art gallery than a carpet store, with a dazzling display of diverse and handmade rugs.

Vastu
1829 14th St., NW; 202-234-8344
A large selection of rugs in solids as well as fun, modern patterns. We're partial to the gold Sea Shells rug (starting at $1,330 in five by seven feet), a modern geometric pattern available in hand-tufted or hand-knotted wool or spun bamboo. Custom rugs are available.

This article appears in the August 2011 issue of The Washingtonian.