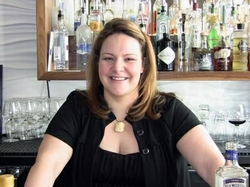 Evil Twin Brewing Tasting at ChurchKey: Tuesday, August 23; 6 to 9 PM
The official DC Beer Week may be over, but ChurchKey is keeping the festivities going with a tasting of beers from Danish brewery Evil Twin. Beer director Greg Engert will pour four-ounce samples of such brews as Evil Twin Ryan and the Beaster Bunny, Biscotti Break, and—no joke—Katz Pis. Admission is free, and tastes are $4 to $6 each. Call 202-567-2576 for more information.
"Fruits of the Harvest" cocktail class at Charlie Palmer Steak: Thursday, August 25; 6:30 to 8 PM
Mixologists Gina Chersevani (PS7's) and Eli Benchimol (Chef Geoff's) are teaming up with the Museum of the American Cocktail for a class on making cocktails with local produce and herbs. In addition to mixing drinks, guests can sample four cocktails—made with liquors like Cuorzo tequila, Hendricks gin, and 42 Below vodka—with light appetizers from the restaurant. Tickets are $45 per person, or $50 at the door. Click here for tickets and more.
Barbecue and Beer Bash at the Kennedy Center's Roof Terrace Restaurant: Thursday, August 25; 7 to 11 PM
Keep celebrating summer with beer, brats, and music atop the Kennedy Center. Locally made beers from Port City Brewing Company, DC Brau, and Old Dominion Brewing Company accompany grilled bratwurst and other barbecue fare from chef Joe Gruner's open-pit grills. Tickets are $40, and include all-you-can-eat food and drink. Call the restaurant at 202-416-8555 for reservations.
Food Truck Beer Dinner at Das Bullpen: Saturday, August 27; 6 to 9 PM
If you missed food-truck gathering Truckeroo here's another chance to sip brews and food-truck-hop around Das Bullpen's open lot just outside Nationals Park at 25 M Street, Southeast. Co-hosts Brad Phillips of Sierra Nevada and Josh Fruchtman of Dogfish Head will pair beers with fare from each of the seven food trucks that are attending, which include Cap Mac, Eat Wonky, Porc Mobile and Hula Girl. Tickets are $75 per person, and all proceeds go to Living Classrooms. Click here for details and tickets.
Columbia Heights Day: Saturday, August 27; 10 AM to 6 PM
Head to Harriet Tubman Elementary School's field (11th and Kenyon sts., NW) for a festival celebrating Columbia Heights. There will be food trucks, a cupcake-eating contest, music and dance performances, and the return of the DC Fair (think "tastiest tomato" and "best homemade pie" contests). Click here for more.
Crab Feast at Sonoma: Sunday, August 28; 4 to 8 PM
It's an unlikely spot to get cracking, but Capitol Hill wine bar Sonoma is serving up $35 buckets of steamed crabs, which come with two sides (such as hushpuppies and cole slaw) and a beer. PBR will be on special for $3 all day. Tickets are available here; buy them at the door and they go up to $40.
Subscribe to Washingtonian
Follow Washingtonian on Twitter
Follow the Best Bites Bloggers on Twitter
More>> Best Bites Blog | Food & Dining | Restaurant Finder