Clockwise from top left: Marvelous Market's scallion-covered roll; Au Bon Pain's croissant sandwich; Panera's ciabatta version; and Subway's "Seafood Sensation." Photograph by Kyle Gustafson.
Lobster rolls are everywhere, and it was only a matter of time before national and local chains started cashing in on the trend. Sadly, you can't get a McLobster sandwich in these parts, but there is still plenty of crustacean action to be found for those who can't stand the lines at the Red Hook Lobster Pound Truck. We tested offerings from four places, ranking them from best to worst (so you never have to). All restaurants have multiple area locations.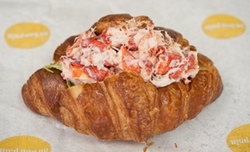 Au Bon Pain
What we ordered: Lobster-salad sandwich, $14.
This international chain of bakeries has Boston roots, which may be the reason it offers the best lobster "roll" of the bunch. Granted we were a little skeptical after reading its nutritional info, which basically confirms what we've always suspected: lobster rolls aren't great for you. But they're worth the occasional splurge, and this one is arguably better—and definitely cheaper—than some high-end takes we've tried. The generous helping of chilled, meaty chunks were tossed with mayo and tucked inside a flaky croissant. It's an unorthodox treatment, but the rich pastry mimicked the traditional butter-swabbed bun we missed in the others we tried.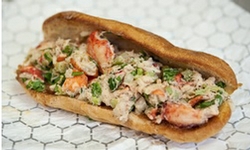 Marvelous Market
What we ordered: Lobster roll with Deep River kettle chips and a Coke, $11.99.
"Any fresher, you'd have to catch it yourself," declares a sign outside Marvelous Market, where a hearty lobster roll topped with scallions is pictured alongside lemon slices, also topped with scallions. As they say, pictures are better than words. The only made-to-order sandwich at this local chain isn't very fresh-tasting, but it does have an inexplicable amount of scallions on, in, and around it. The little hunks of lobster meat lightly coated in mayo and served in a toasted brioche-style hot dog bun looked promising, but there was no way to tell amid all the green onion, black pepper, and lemon juice.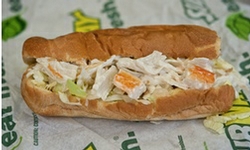 Subway
What we ordered: Six-inch Seafood Sensation sub on a toasted white roll with lettuce, $4.18.
Alright, so this sub doesn't resemble anything from a shack in Maine. But if monkfish is the poor man's lobster, then the Subway Seafood Sensation can be the poor man's lobster roll. Like the McDonald's McRib, this sandwich has a small cult following on the internet—Washington is one of the few cities that carries it—but it's hard to find many details on the company Web site. So what exactly is a Seafood Sensation? As the oxymoronic description says: "Imitation crab salad. Sensational." It turns out that the filling is a relatively inoffensive mix of fake crab —itself a blend of real crab and Alaskan pollock—and mayonnaise. Don't order it Maine-style, as we did for a shred of authenticity (and don't ask for it Maine-style, because no one will understand you). The creamy mix needs tomato, cucumbers, hot sauce, and maybe a fifth of Jack to be enjoyable.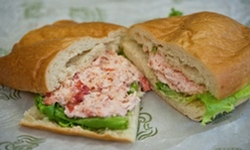 Panera Bread
What we ordered: Lobster sandwich with complimentary Panera chips and a bottle of water, $20.68.
The press release for this national sandwich chain invites you to "savor the flavor of summer" with this pricey lobster sandwich, "superb in its simplicity." If Panera was as handy with lobster as they are with alliteration, we'd be in business. But the thing had a smell we can only describe as like an old fish tank after its been scrubbed with chemical cleaner. The hearty glop of overcooked knuckles and rubbery claw tips on untoasted ciabatta tasted too low-tide for a second bite. There was also an unnatural Pepto-pink tint that stained the bread, suggesting that the chemical odor could be more than figurative. Spend an extra three bucks and order a lobster roll with old bay fries (and free water) at Hank's Oyster Bar.
Subscribe to Washingtonian
Follow Washingtonian on Twitter
Follow the Best Bites Bloggers on Twitter at twitter.com/bestbitesblog
More>> Best Bites Blog | Food & Dining | Restaurant Finder