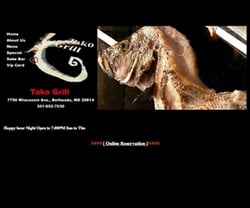 Bar-Cöde
If the Düsseldorf Airport bar had a Facebook page…
Bond 45
Sick of others stealing its raw veal from the fridge, Bond 45 started labeling.
Cafe Bonaparte/Napoleon Bistro
The eerie music and disembodied head following our mouse make us wonder whether these places are French bistros or French haunted houses.
Eggspectation
The sung tale of a yak-child who opened an egg-themed version of Friday's.
Hello, Cupcake (book Web site)
Hello, sensory overload!
901 Restaurant
Holy $#@*! You can share conversation and appetizers here?!
Pedro and Vinny's
Between the whizzing balls and shrill buttons, this site has turned many a hungover burrito dream into a nightmare.
Rasika
Naturally we'd rather spend 10 to 20 seconds watching the "I woman" dance instead of actually seeing the menu.
Tako Grill
The seafood version of the Crypt Keeper isn't the most appealing first image.
Thaiphoon Restaurant
Music from a memorial service for typhoon victims, plus sour apple martinis.
Tragara
Look into my eyes: you will discover authentic Italian cooking, you will discover authentic Italian cooking…
Westend Bistro
Forget food porn. Between the "groove" music and mention of Eric Ripert's spine, we're already there.
Subscribe to Washingtonian
Follow Washingtonian on Twitter
Follow the Best Bites Bloggers on Twitter at twitter.com/bestbitesblog
More>> Best Bites Blog | Food & Dining | Restaurant Finder