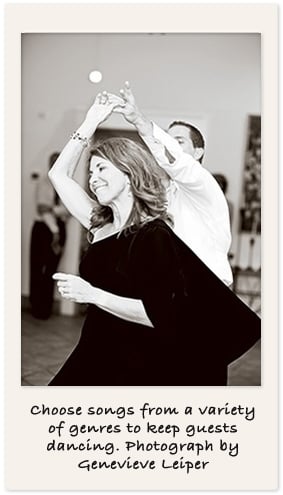 "I decided to choose the music I would use for my wedding if I were getting married again—music was a huge part of our celebration," says Evan Reitmeyer of MyDeejay. "I believe that each wedding's music should be a reflection of the couple's taste, so everything I do as a DJ is completely customized for each of our clients. Music is a great way to show some personality and create a 'vibe' for the wedding guests to enjoy."
Listen to Reitmeyer's playlist on Spotify (if you don't have Spotify, download it here).
Bridal Party Entrance: "Deceptacon" by Le Tigre
"This song works well as a backdrop for the DJ announcing the bridal party. This song provides the right vibe to kick off the evening," Reitmeyer says.
Couple's Entrance: "So Fresh, So Clean" by Outkast
"My wife, Jennifer, and I actually used this at our wedding and I stand by my choice!" Reitmeyer says.
First Dance: "That's How Strong My Love Is" by Otis Redding
"I think this expresses exactly how I feel about my wife. Amazing song," Reitmeyer says.
Father/Daughter Dance: "Daughter" by Loudon Wainwright
"This song is not for me to pick, so I asked Jennifer and this was her choice—it's a great tune!" Reitmeyer says.
Mother/Son Dance: "Do You Wanna Dance" by The Ramones
"At my wedding, my dance with my mom was to a slow song and it wasn't 'us' at all. This is much better," Reitmeyer says.
Cake Cutting Song: "Love You Madly" by Cake
"I love a good food pun—don't judge me!" Reitmeyer says.
Song to Play During Dinner: "Inaudible Melodies" by Jack Johnson
"My clients usually give me a few songs that describe the feel they want for cocktail hour or dinner, and I build a playlist around that. So, this is what our dinner would feel like," Reitmeyer says.
Song to Get Everyone on the Dance Floor: "Hello" by Martin Solveig & Dragonette
"Is this song lyrically appropriate for a wedding? No, but it rocks and I love it," Reitmeyer says.
Slow Song: "Into the Mystic" by Van Morrison.
"Hands down the greatest slow song ever written. Period," Reitmeyer says.
Last Dance: "The Time (Dirty Bit)" by Black Eyed Peas.
"I hate/love Black Eyed Peas and this sucks/rocks. Either way, it's genius and a great way to end the night," Reitmeyer says.
Did you have a wedding playlist that kept the dance floor packed all night? Send it to us at kforrest@washingtonian.com and we'll put it up on the blog.
Subscribe to Washingtonian
Follow Washingtonian Bride & Groom on Twitter
More>> Bridal Party Blog | Wedding Guide | Wedding Vendor Search