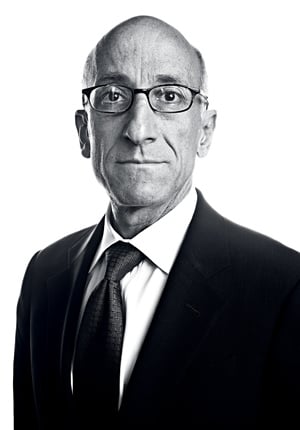 As his cab cruises down Pennsylvania Avenue, Tim Massad studies the latest bailout figures. Although he knows them nearly by heart, the numbers are constantly changing. Just a day earlier, a Cincinnati bank became the latest financial institution to repay Uncle Sam—returning the $3.4 billion it received in 2008.
Wearing a dark suit, Massad exits the vehicle and marches into CNBC's studio on North Capitol Street. He settles into room 123, adjusts his earpiece, and stares into the camera. When the on-air light turns red, Jim Cramer—the animated host of TV's Mad Money—welcomes Massad to his show.
"Can we just take a moment," Cramer says from his studio near New York City, "to acknowledge that the most despised part of the most hated government program since Nixon abolished the Tennessee Valley Authority—I'm talking about the bank bailout portion of the Troubled Asset Relief Program, better to be known as TARP—has actually been an incredible success!"
While the nation's budget wonks describe a gloomy future, Tim Massad—the Treasury Department official in charge of TARP—has been busy sharing his surprising news: The $245 billion of taxpayer cash the government sank into banks will not result in the big losses nearly everyone predicted. "We're going to make a $20-billion profit," Massad says.
His projection—should it come to pass—would represent a surprising turnaround for TARP. After markets began to melt down in the fall of 2008, Congress gave the Treasury Department the authority to use up to $700 billion to buy stakes in American companies—mostly banks, financial firms, and automakers—that were ensnared in the economic panic. Although officials insisted the move was necessary to prevent a second Great Depression, bailing out the same Wall Street firms that helped create the crisis—Goldman Sachs, Citibank, Bank of America—angered the public. TARP became a symbol of government overreach and helped fuel big Republican gains in the 2010 midterm elections.
But even as TARP has continued to get withering criticism, its financial outlook has improved dramatically. The Congressional Budget Office estimated in 2009 that TARP would generate a $356-billion taxpayer loss. Today, the bank investments are likely to return billions to the government, while the overall program—which includes cash for struggling homeowners and automakers—will lose only around $19 billion.
And it's not just Wall Street cheerleaders like Jim Cramer who are impressed. "TARP's financial prospects are today far better than anyone could have dared to hope just two years ago," the program's special inspector general said in a report.
Few government officials have been more involved in TARP's turnaround than Tim Massad. "He's touched almost everything," says David Miller, TARP's former chief investment officer.
And although Massad, 55, a mild-mannered corporate lawyer, is unknown to many Washingtonians, he is actually the city's most powerful money manager. He oversees TARP's remaining $126-billion portfolio of taxpayer-owned investments, which is significantly larger than the Carlyle Group's $108 billion of assets under management.
Massad followed the economy's descent into crisis from his office in New York, where he was a partner at the law firm Cravath, Swaine & Moore. Having long felt the tug of government service, he agreed to forgo a paycheck and take a short-term volunteer post with a TARP oversight committee in December 2008. "Given the gravity of the situation, if there was something I could do to help, I was going to help," he says. After first commuting here from New York, he moved his family to Washington in 2009 when he became TARP's chief counsel.
Think of TARP as a huge mutual fund that invests taxpayer dollars in struggling businesses. But rather than seeking profits for investors, TARP was designed to give companies the funds they needed to weather the panic and return in decent shape to private markets. Because the program made investments in such a wide spectrum of industries, it needed a manager who was comfortable working across multiple business lines.
A Wall Street lawyer with more than two decades of experience, Massad could get under the hoods of several companies at a time. "When it comes to juggling, he could be in Cirque du Soleil," says Herb Allison, a former head of TARP. When Allison announced his resignation in September 2010, Massad was the natural choice for his replacement. After months on an acting basis, he was confirmed by the Senate on June 30.
Massad's parents, the children of Lebanese immigrants, were determined to provide better opportunities for Massad and his two siblings. After launching a career as an oil-rig engineer, Massad's father climbed Mobil's corporate ladder while his mother raised the family. As a high-school student in Connecticut, the younger Massad became active in student government and helped start a local youth center. Although the anti-war and civil-rights movements pulled his political views to the left, Massad's relationship with his father convinced him that big-business executives weren't villains. "I learned that people who work in businesses—whether they are small or large—can be just as dedicated to doing the right thing as any other group of people," he says.
After interning in Washington with a congressman, Massad enrolled at Harvard, studying economics, government, and history. His college acquaintances included future Treasury Secretary Lawrence Summers. On graduation, Massad moved back to Washington for a job with consumer crusader Ralph Nader. There, he found that some corporate bashers on the left knew little about business and economics. The best way to further his own understanding, Massad figured, was to roll up his sleeves as a lawyer on Wall Street. He picked up a law degree from Harvard—where his classmates included Jim Cramer and Eliot Spitzer—and landed a job at Cravath in 1984.
Rather than specializing in a given field, Cravath trains associates to be "corporate generalists" able to execute a range of transactions. Massad handled deals involving Internet firms in China, power companies in India, and cruise lines in the US. During the first Gulf war, he helped arrange a $4-billion loan to Saudi Arabia secured by oil still in the ground.
TARP's financial turnaround was linked to other federal efforts, such as the bailout of Fannie Mae and Freddie Mac and the Federal Reserve's bond-buying program. In conjunction with TARP, these initiatives led to improvements in financial markets that enabled companies to repay their government funds. "Because we acted with overwhelming force and speed, we were able to arrest the panic, stabilize the system, and lay the foundation for a recovery," Massad says.
The pace of TARP repayments picked up last fall. Treasury engineered a successful IPO for GM in November and then sold the last of its once $45-billion stake in Citigroup, realizing a $12-billion profit. In July, the government exited its investment in Chrysler, selling its stake to the Italian automaker Fiat for a final expected loss of just $1.3 billion on a $12.5-billion bailout.
It's too soon to declare victory. TARP still has $126 billion of investments outstanding, including positions in AIG, Ally Financial, and GM. Says Massad: "My goal is to get all the money back."
Not everyone is buying it. The program to rescue homeowners from foreclosure has fallen well short of its goals. Even Treasury admits that taxpayers may eat a loss on its investment in the automakers. Kenneth Troske, a University of Kentucky
professor who sat on the Congressional Oversight Panel, says that while the program helped stabilize the financial system, "the parts of TARP that came after that—those designed to limit foreclosure, stimulate bank lending, and reduce unemployment—appear much less successful."
Moreover, some economists argue that TARP has actually set the table for a bigger crisis—requiring an even larger bailout from Washington—because it failed to punish banks adequately for their excessive risk-taking. "TARP's price tag goes far beyond dollars and cents," the program's special inspector general concluded in a report. "The ultimate cost of TARP will remain unknown until the next financial crisis occurs."
Massad insists that TARP's job was to rescue the financial system from crisis, not to repair the regulatory shortcomings that enabled it or to solve all our economic problems. Treasury believes economic historians will come to view TARP as a triumph because it quickly stabilized the financial system at a relatively low cost. "Tim's hard work and leadership have helped turn TARP from a four-letter word into a real success story," Treasury Secretary Timothy Geithner said in a written statement.
Massad, though, says much of the program's credit belongs to the many career staffers who worked outside of public view. "People had to confront situations they had never imagined," he says. "They worked incredibly long hours, had to think very creatively about what to do, had to make very, very tough decisions. They deserve a lot of thanks."
This article appears in the September 2011 issue of The Washingtonian.