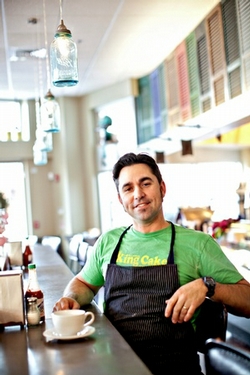 The American Institute of Wine and Food's Annual "I Love Crab Cakes" Competition at Phillips Flagship Restaurant (900 Water St., SW): Monday, September 12; 6:30 to 9 PM
Chris Clime of PassionFish, Chris Kenworth of Watershed, and Shannon Overmiller of the Majestic are among the chefs going head to head in a crabcake contest in which dishes are tested by guests as well as judges. Another competition features rising talents, who have the chance to win $500 towards their education. There will be plenty of Port City Brewing Company beer and a selection of wines to accompany all the crab cakes. Click here for more details. Tickets—$60 for AIWF members; $75 for non-members—can be purchased by emailing Bob Sitnick at dcaiwf@me.com.
Cooking Demo, Dinner, and Beer Pairing with Les Dames d'Escoffier at Bayou Bakery: Tuesday, September 13; 6:30 to 9 PM
Les Dames d'Escoffier—the organization of female wine and food professionals—hosts a Louisiana-themed evening at Courthouse's Bayou Bakery. The event starts with a chef/owner David Guas's cooking demo on how to make New Orleans-style barbecue shrimp. He'll also discuss food culture in Louisiana and talk about the food in the movie The Help. Then guests will sit down to a three-course menu paired with Abita beers: think the BBQ shrimp and braised collard greens with Jockamo IPA, and a salted-caramel layer cake with Abby Ale. Click here for the full menu and more details. The Web site notes that registration closed Friday, but you can still make online reservations here or by leaving your information on the voice mail at 202-973-2168.
Sierra Nevada Beer Dinner at Ripple: Tuesday, September 13; 7 PM
Ripple will host its first-ever beer dinner with rare brews from Sierra Nevada Brewing Company and a five-course menu from chef Logan Cox. The menu includes Ovila Series Saison Ale paired with pickled shrimp, grapefruit, and crispy couscous; rabbit croquette with toasted-barley cream and lager/ginger emulsion paired with Vienna Lager; smoked quail boudin with spaghetti squash "kraut" served with Ovila Dubbel; a rare Sierra Nevada and Dogfish Head collaboration, Ale Life & Limb, paired with spiced duck breast, pickled blueberries, and smoked maple jus; and a cheese course served with two barleywines. The dinner is $75 per person, and reservations can be made by emailing David Delaplaine at ripple.beer@gmail.com.
Champagne Dinner at Cafe Promenade: Wednesday, September 14; 6:30 PM
Battle any midweek blues with bubbly at the Mayflower Hotel's Cafe Promenade, where a three-course dinner will be paired with Ruinart Champagne. A cocktail reception will start things off, and then guests will move onto a menu that includes ginger-citron- poached lobster salad; pan-roasted pheasant with polenta and kumquat/pinapple chutney; and a duo of desserts— cardamom/chocolate lava cake and roasted white peaches with jasmine cream. The dinner with pairings is $100 per person. Call 202-347-2233 for reservations.
Brainfood Grill-Off at the Stephen Decatur House Museum: Thursday, September 15; 6:30 to 9:30 PM
Brainfood, a youth-focused non-profit that teaches life skills through culinary programs, hosts a grilling competition featuring local chefs Kyle Bailey (Birch & Barley), Teddy Folkman (Granville Moore's), Kevin Villalovos (Cure), and more. A secret ingredient will be given to the chefs and their Brainfood assistants, and the dishes they create will be judged by a panel that includes WJLA anchor Leon Harris. Tickets—$75 per person—include samples of food from the competition plus a Ridgewells-catered buffet, beer, and wine. Click here for more details and to purchase tickets.
Wine Tasting and 826DC Fundraiser at the Museum of Unnatural History (3233 14th St., NW): Thursday, September 15; 6:30 to 8:30 PM
Sip vino for a good cause at a fundraiser for 826DC, a nonprofit that helps students with their writing skills, at their Museum of Unnatural History space in Columbia Heights. Cork Market and Wine Bar will offer pours of Spanish wines alongside Spanish cheeses, and one of the market's experts will be on-hand to guide guests through the selections. Click here for more information, and purchase tickets—$45 per person—here.
Pastry Class with Chef Fabrice Bendano at Adour: Sunday, September 18; 11:30 AM to 2:30 PM
Spend an elegant afternoon at the St. Regis Hotel with Adour pastry chef Fabrice Bendano, who will teach participants to make lemon macaroons and an orange tian (a layered tart). Coffee, tea, and pastries will be served when guests arrive. The class is $75 per person, which includes macaroons to take home. Call 202-509-8000 for reservations.
Subscribe to Washingtonian
Follow Washingtonian on Twitter
Follow the Best Bites Bloggers on Twitter at twitter.com/bestbitesblog
More>> Best Bites Blog | Food & Dining | Restaurant Finder