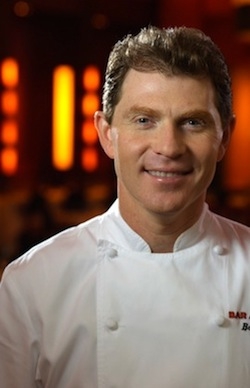 Wednesday, September 21
SIGNING: Renowned chef and Food Network star Bobby Flay is stopping by the Sixth & I Synagogue to sign copies of his new book, Bobby Flay's Bar Americain Cookbook. Tickets ($40) include one copy of the book and can be purchased through TicketFly. 7:30 PM. And in case you missed it, be sure to check out our interview with Flay.
MUSIC: In honor of the 50th anniversary of the Peace Corps, Senegalese vocalist and activist Youssou N'Dour will be performing at the Kennedy Center. The Grammy Award winner has worked with artists including Bob Marley, Peter Gabriel, Wyclef Jean, and Sting. Chris Hedrick, the Peace Corps country director in Senegal, will also speak during the program. Free; 6 PM.
ART: Art buffs won't want to miss Fakes, Forgeries, and the Art of Deception at the S. Dillon Ripley Center. Independent curator and researcher Colette Loll Marvin will provide a brief history of deception and deceit in the art world, the strategies and techniques of criminal deception, and the extraordinary lengths to which art forgers will go. Tickets ($27 to $40) can be purchased through the Smithsonian's Web site. 6:45 PM.
FILM: For one night only, the Artisphere will host a screening of The First Movie. The Telluride Film Festival selection explores the lives of Iraqi children who have known nothing but war. But when filmmaker Mark Cousins gives them Flip-cams to create their own movies, the result is a collection of stories that show a different side of Iraq. Watch the trailer here. Tickets ($4 for students, seniors, and military; $6 for everyone else) can be purchased through the Artisphere's Web site. 8 PM.