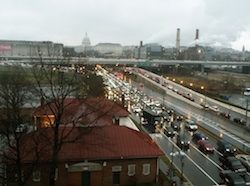 A report on Market Watch today ranks America's longest commutes. New York comes in first, with an average commute time of 34.6 minutes, but the Washington area comes in at a close second, at 33.9 minutes. Nearby cities Winchester, Virginia, and Baltimore also made the list, with average commute times of around 30 minutes.
Though DC was recently ranked one of America's most walkable cities, commute times are still affected by folks who have to live far enough out to find affordable housing. These stats come from a recently released Census report on national commuting trends.
The Census report indicates that 86 percent of Americans commute by car, truck, or other private vehicle. Just 5 percent nationally take public transportation to work, 2.9 percent walk, and just over half a percent—0.6—commute by bicycle. The report also factors in about 4 percent of people who said they work from home.
The Washington area also ranks third in public transit commuters, with around 15 percent of workers commuting this way. The Washington area does not make the list of top-ten biking or walking commuter cities.