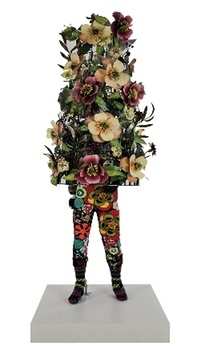 Walk into the Corcoran's rotunda this weekend, and you'll come across a distinctly unsettling sight: nine stools placed in a circle around a rope noose, with white hoods sitting on top of them. The work, by New York artist Gary Simmons, is titled "Duck, Duck, Noose," and it's an instant, visceral introduction to "30 Americans," opening this weekend at the Corcoran. Despite the visual horror associated with Klan hoods, the piece is menacing in a more subtle, quiet way, encouraging viewers to fill in the gaps themselves. Like "Duck, Duck, Noose," "30 Americans," a show featuring 31 of the most influential African-American artists of the last three decades, isn't specifically about blackness as much as it's about the experiences that drive art, and the unique circumstances that compel different people to create it.
"30 Americans" is a fascinating, textured show, bringing together such unlikely elder statesmen as Jean-Michel Basquiat and David Hammons with lesser-known creators such as the performance artist Kalup Linzy and the recently deceased, prodigiously talented Purvis Young. Young, an entirely untrained Floridian folk artist, became a darling of the Miami art scene after years of leaving his work plastered across his neighborhood; "Untitled," his circular, apocalyptic painting is one of the most expressive works in the show.
"30 Americans" is no easy thing to take in—the exhibit spans multiple rooms, and each piece demands more than a cursory glance. A majority of pieces ("Duck, Duck, Noose"; Nick Cave's colorful, prison-like costumes; Kara Walker's disturbing silhouettes) provoke discomfort, but for the faint-hearted, there's Kehinde Wiley's gorgeously detailed, Renaissance-esque portraits of young black men or Xaviera Simmons's bold, dazzling self portraits. But what each of the artists shares is a profound ability to evoke feeling—to force the viewer inside their perspective. It's a hard thing to accomplish, and makes for a particularly rich, thoughtful experience.
Accompanying the show, which comes from the collection of Miami art powerhouses the Rubell family (owners of the Capitol Skyline Hotel in Southwest Washington), is an exhibition of photographs and films by Hank Willis Thomas. Thomas is almost exclusively preoccupied with the emblems of popular culture, and his stark, graphic works explore their connection with race. In one photograph, a bald head is branded with the Nike symbol; in an animation, basketball players reach toward—but never actually touch—a swinging noose in place of a net. His discussion of manipulation, exploitation, and the power of the brand is fascinating, and it's only slightly softened by the main sponsor behind "30 Americans": Puma.
"30 Americans" is at the Corcoran Gallery of Art from October 1 through February 12; tickets are $10. For more information, visit the Corcoran's Web site.