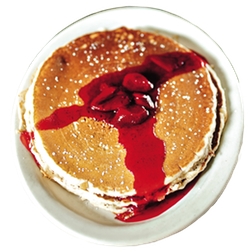 Coming up with a good cookbook title can be challenging (remember Cooking With Pooh?), and the same goes for restaurant dishes. While they may be perfectly tasty, here are eight of Washington's most dubiously named offerings, all on a menu near you.
Sun Drenched Tropical Salad
Where: Pusser's Caribbean Grille in Annapolis
Remember when you left the salad out during a picnic and it got all sun-drenched—that is, wilted and hot?
Braised Wrinkled String Bean
Where: Spices in DC's Cleveland Park
The idea of a lone, wizened bean isn't all that appealing. Even one cooked with Szechuan-preserved vegetables.
Memphis Glamburger
Where: Cheesecake Factory (multiple area locations)
Nothing says glamour like a hefty patty that's topped with pulled-pork barbecue, coleslaw, mayonnaise, and melted cheddar.
Killer Cakes
Where: Osman & Joe's Steak 'N' Egg Kitchen in DC's Tenleytown neighborhood
Or perhaps you prefer to order your "colossal plate-covering pancakes" with, say, strawberry topping, chocolate chips, and ice cream without being reminded of the consequences?
Dragon Tit
Where: Wisdom in Southeast DC
You can see the logic behind the name of this spicy cocktail: habanero peppers = fiery = dragon. Tequila = occasional nudity. So habanero-infused tequila? Go for it!
The Pelvic Floor Rickey
Where: Ripple in DC's Cleveland Park
Bartender Josh Berner brings together Hendrick's Gin, tarragon-mint seltzer, and awareness of pelvic floor dysfunction. (No joke—some proceeds from the drink's sale go to the Association for Pelvic Organ Prolapse Support.)
Mom's Grilled Cheese
Where: Archibald's in downtown DC
At first glance, a lovely bit of nostalgia. On a strip joint's menu? Not so much.
Buddhist With Duck
Where: Full Key in Wheaton
Next up: Muslim With Pork.
This article appears in the October 2011 issue of The Washingtonian.