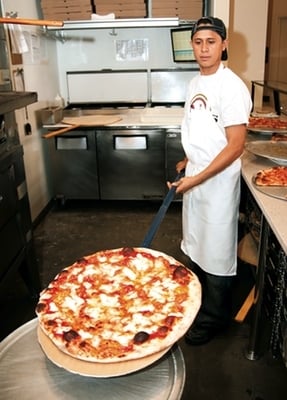 Acre 121 hosts live music throughout the weekend. Its cobb salad included pork belly and shrimp. Photographs by Erik Uecke
Pete's New Haven Style Apizza
1400 Irving St., NW; 202-332-7383
In three years, New Haven natives Joel and Alicia Mehr have expanded their laid-back pizzeria from this original location to outposts in Clarendon and DC's Friendship Heights. Nonetheless, the quality of the thin-crust pies remains high. The signature New Haven white-clam version is a standout (better to get a whole pizza—the slices can be dry), as is the salt lover's Napoletana, with anchovies, olives, and capers. The sleeper hit is the Sorbillo's Original, a calzone-like creation bursting with ricotta and salumi and topped with fresh basil.

Radius Pizza
3155 Mount Pleasant St., NW; 202-234-0808
When Todd Wiss, former sous chef at Poste, and his wife, Nicole, took over this spot in 2009, they turned a pizza joint into an ambitious neighborhood restaurant. The pies are still good, but also well worth trying are the house-made pastas and seasonal small plates, such as cumin-scented crispy chickpeas or asparagus with a poached egg. Every day from 5 to 7, a slice of pie with a pint of beer is $5.

El Rinconcito II
1076 Park Rd., NW; 202-299-1326
Younger sister of the scruffy original El Rinconcito near Logan Circle, this branch is bigger and slicker. But the food remains the same: great pupusas, fluffy corn tamales, soft fried plantains with sour cream, and juicy steaks served with a variety of toppings. The menu is long, but for the best experience, focus on the Salvadoran options.
Pica Taco
1629 Columbia Rd., NW; 202-518-0076
On the ground level of the Argonne apartment building, co-owner Maria Villalta turns out two-ply soft tacos—go for the chicken or braised beef—and a lineup of other Mexican staples: burritos, enchiladas, and tostadas. We're fans of the chorizo torta, Mexico's answer to a sub sandwich, which comes with avocado, white cheese, lettuce, and tomato. Watch out for the green salsa—it's incendiary.
Pupuseria San Miguel
3110 Mount Pleasant St., NW; 202-387-5410
It helps to brush off your high-school Spanish before descending into this basement Salvadoran restaurant. The extra effort is worth it: the pupusas—palm-size corn cakes stuffed with any permutation of cheese, shredded pork, beans, or the flower bud known as loroco—are excellent. So is the slightly sweet corn tamale and the thin-pounded round of steak in carne asada. The kitchen isn't in any rush, so be prepared to wait.
Pho 14
1436 Park Rd., NW; 202-986-2326
Appetizers can be disappointing, but when the steaming pho hits the table, all is redeemed. It's rare to find such a satisfying bowl of the Vietnamese noodle soup in DC. It's served by a friendly staff, and we like the version with eye of round steak and fatty brisket.
Pho Viet
3513 14th St., NW; 202-629-2839
This mom-and-pop basement spot is decked out with exposed brick, diner chairs, and Muzak. Start with a squeezed-to-order lemonade to wash down shrimp-and-sweet-potato fritters and fresh summer rolls. The pho is average, but such rice dishes as the Viet combo—a grilled pork chop with a side of shredded pork, a house-made egg-and-pork terrine, and a sunny-side-up egg—keep us coming back.

Heller's Bakery
3221 Mount Pleasant St., NW; 202-265-1169
Opened in 1928, Heller's remains a neighborhood favorite. Old-timers, hipsters, and families gather for a cup of joe and a doughnut—we like the heavenly Boston cream, those feathered with coconut, and the old-fashioned cake doughnuts. The bakery, with large windows that open on nice days, is full-service, so you can order everything from a cheesesteak with fries to a wedding cake.

Sticky Fingers Sweets & Eats
1370 Park Rd., NW; 202-299-9700
A vegan bakery can be a hard sell, but this one does a good business. The grilled Daiya (a brand of vegan cheese) on multigrain and the Buffalo-chicken wrap may not duplicate the real things but are very good. Cupcakes, including an excellent coconut cake and a chocolate/peanut-butter version, are moist and creamy. Other winners include the oatmeal-cream sandwich bar and the Little Devil, two chocolate cakes with vanilla filling.

Flying Fish, Coffee & Tea
3064 Mount Pleasant St., NW; 202-299-0141
Java lovers will revel in the handful of coffee varieties brewed by the cup, house-made flavored syrups for espresso drinks, and cold-brewed iced coffee. This blue-and-yellow cafe plays indie and classic rock and has a smiling staff. Get there early if you want to sample the outstanding prosciutto-Gruyère croissant.
Tynan Coffee & Tea
1400 Irving St., NW; 202-299-0811
Steps from the Columbia Heights Metro, this is a reliable place that's popular with local parents and seekers of free wi-fi. Try the oversize, made-to-order waffles—our favorites are the chocolate chip and the blueberry—or such savories as the sausage-egg-and-cheese breakfast sandwich. Some menu items are made ahead and wrapped in cellophane, so ask what's fresh.

Dos Gringos
3116 Mount Pleasant St., NW; 202-462-1159
Families flock here for waffles, smoothies, and milkshakes, while vegetarians appreciate the veg-friendly menu. Among the sandwiches, a standout is the pastrami on marbled rye with avocado and a smoky chipotle slaw. On nice days, grab a coffee and bagel and head for the porch or patio, where you can people-watch in the heart of the neighborhood.
Uptowner Café
3307 14th St., NW; 202-234-8814
This deli stands out by offering hand-carved sandwiches, friendly and fast service, and great prices. Breakfast sandwiches and iced coffee bring in the morning crowd. For lunch, we like the Washingtonian sandwich: roasted pork loin with pickled jalapeños, slaw, Swiss, and mustard. The St. Asaph is another favorite, with slices of turkey topped with mozzarella, artichoke, and roasted red pepper.

Acre 121
1400 Irving St., NW; 202-328-0121
Taking over CommonWealth's space meant big shoes to fill. The new owners warmed the place up by adding a marble bar and live music. Start with the saucy barbecue-pork sliders with coleslaw. A hefty burger and a plate of andouille-spiked shrimp and grits make for satisfying entrées. Desserts are pleasantly simple, such as the mousse-like peanut-butter pie and the creamy-tart lemon pie.
This article appears in the October 2011 issue of The Washingtonian.