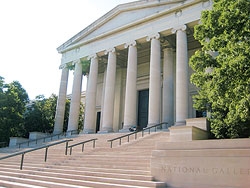 National Gallery of Art
The programs here are the most diverse in town, focusing on rare and largely unseen films. Selections, sometimes tied to exhibits, showcase newly preserved and archived movies plus the best from innovative festivals. The museum is the go-to place for silent films with live musical accompaniment. Free; visit the National Gallery of Art's Web site for more information.
Freer Gallery of Art
The Freer has the Smithsonian's best film programming and hosts a number of small festivals focusing on the Asian experience, such as the recent Made in Hong Kong festival and the DC Asian Pacific American Film Festival, at the Freer and other locations October 6 through 15 (apafilm.org). All Freer films are free; to view Freer's schedule, visit its Web site.
Goethe-Institut
The institute devoted to German-language culture hosts its own film series and often joins forces with other festivals. Some series stand alone, such as a recent one on climate change; others are part of larger events, such as this month's exhibit on the Berlin Wall. Movies generally cost around $7; to view upcoming film series and festivals, go to Geothe-Institut's Web site.