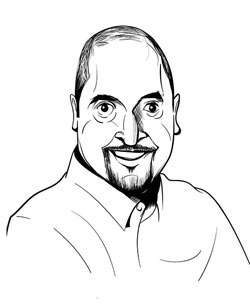 MICHAEL J. BOBBITT
The stage is a big adventure for writer/choreographer/director/performer/teacher Michael J. Bobbitt.
The Gonzaga High School graduate went to college on a trumpet scholarship, switched his passion to theater, then discovered that he loved putting productions together. Now he's the producing artistic director of Adventure Theatre in Glen Echo Park, which is redefining children's entertainment in the area.
Last year, Bobbitt picked up Adventure Theatre's first Helen Hayes Award for If You Give a Pig a Pancake. This season, he's producing the premiere of 'Twas the Night Before Christmas, the first show that award-winning Washington playwright Ken Ludwig (Lend Me a Tenor, Crazy for You, Moon Over Buffalo) has written for very young audiences. Says Bobbitt: "I can't believe he said yes."
Bobbitt admits he has challenges that directors of adult theater never face: "We keep our subscribers for only three years rather than 20. Our dirty little secret is that we have to entertain the parents as well."
It's working. Adventure Theatre is selling out and doing more off-site productions to accommodate bigger audiences.
"Luckily," Bobbitt says, "people keep having babies."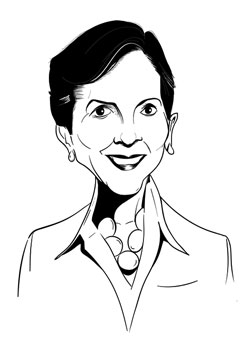 ADRIENNE ARSHT
Adrienne Arsht is a director's dream: an angel willing to financially back not one play but an entire season.
A longtime Kennedy Center supporter and treasurer of its board of trustees, Arsht donated $5 million in 2009 to create a fund to support musical theater there. The first production, Stephen Sondheim's Follies, was a hit in DC this spring and moved to Broadway. "New York audiences are going wild," Arsht says. In June, Washingtonians will be treated to a new Kennedy Center production of Pal Joey with a book by Terrence McNally. Also coming in the summer: The Addams Family and Memphis.
Arsht moved to Washington from New York in 1979 and learned about theater producing from Kennedy Center founding chairman Roger Stevens. She's since become an arts benefactor both here and in Miami, where she ran a family-owned bank. In 2007, Arsht sold the bank and began to split her time among Miami, New York, and DC.
Musicals are close to her heart: "It's what I was raised on. Musicals are not only timeless, but they speak to our sentiments, from 'Oh, What a Beautiful Mornin' to 'I Could Have Danced All Night.' "
This season, theatergoers have good reason to stay up all night as the KenCen lights up with productions Arsht has made possible.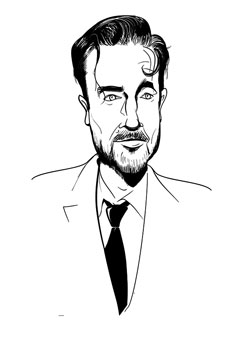 ETHAN MCSWEENY
Ethan McSweeny has succeeded early and often. The native Washingtonian started as a protégé to Shakespeare Theatre artistic director Michael Kahn and directed the 2000 Broadway production of Gore Vidal's The Best Man while in his twenties. He's since directed at Minneapolis's Guthrie and San Diego's Old Globe, been co-artistic director of New York's Chautauqua Theater Company, and returned to direct several plays at Shakespeare. Last season, he conceived a production of The Merchant of Venice set in New York's Little Italy in the '20s. At Arena, he helmed an adaptation of John Grisham's A Time to Kill. This season, he's back at Shakespeare directing Much Ado About Nothing.McSweeny prefers to focus on character over poetry and considers Beatrice and Benedick among Shakespeare's most appealing characters: "They're not kids. They've made mistakes. It's a grown-up romance."
Much Ado opens December 5, and McSweeny knows he'll have a tough crowd that knows the Bard almost as well as the company does—plus parents Bill and Dorothy McSweeny, major local theater patrons. "Shakespeare Theatre audiences are extremely erudite," says Ethan McSweeny. "They've been following Shakespeare a long time."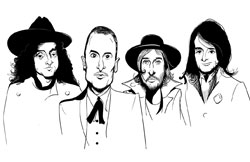 U.S. ROYALTY
How does the DC-based rock group U.S. Royalty describe its sound? "We play music that sways from gritty to pretty," says frontman John Thornley.
Thornley (vocals/piano), his brother Paul (guitar), Jacob Michael (bass), and Luke Adams (drums) formed the group in 2008. They started out practicing in an abandoned trailer. Now they're playing clubs and festivals all over the country; have been featured in Esquire, Spin, and the New York Times; and made fashion news through their association with the Swedish label Gant Rugger. They were one of two local bands chosen to play at the Sweetlife Festival at Merriweather Post Pavilion earlier this year, opening for the Strokes. U.S. Royalty's influences range from "blues to garage to psych to pop," says John Thornley. For its first album, Mirrors, the group used instruments ranging from bongos to Wurlitzer organ to pedal steel guitar.
The band will be in New York City for the CMJ music and film festival this month and is touring the East Coast in the fall. Look for a homecoming at DC's 9:30 Club.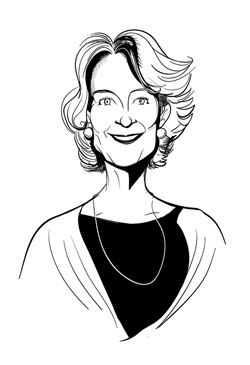 MARY MORTON
Washingtonians will see some of their favorite paintings very differently when the French galleries in the National Gallery of Art's West Building reopen in January. Creating exhibits that inspire visitors to experience art with fresh eyes is "the fun of the business," says curator Mary Morton: "Live installations are about how objects talk to each other."
Morton was named curator of French painting in 2009. She came from the J. Paul Getty Museum, eager to work with one of the world;s best collections of Impressionist and Post-Impressionist paintings. Her job has included overseeing the restoration of such treasures as Renoir's "Pont Neuf, Paris." In the restored work, visitors will be able to see the light as Renoir painted it. The redesigned galleries will feature more text to help viewers.
Morton has some unusual tools to help pull together a large installation, including what she calls a "curatorial dollhouse," which shows exhibits in miniature. But there's nothing like walking through the galleries, she says: "French painting in the second half of the 19th century was meant to provoke the viewer. They were painting for impact—visual, political, or social."
To make that impact more accessible to Washingtonians and the millions who visit here is, Morton says, "why I signed on."