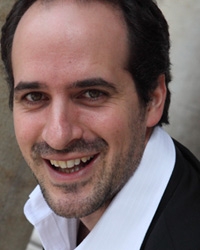 The new season of Vocal Arts DC finally opened on Wednesday night in the Kennedy Center Terrace
Theater with a recital of early-20th-century German songs. The honor of opening the season fell to Austrian baritone Mathias Hausmann after bass-baritone Eric Owens canceled his September 10 Vocal Arts recital at the eleventh hour. Hausmann's voice is a pleasure to listen to—full-bodied, round, and well formed in tone. It joined beautifully in all registers, from resonant lows to ringing but still smooth heights, even a sweet crooner's head voice heard in some of the popular-style songs that concluded the concert. At the same time, his performance had a coolness, a detachment that gave the impression of expressive possibilities left unexplored once a certain contentment in the beauty of sound had been reached. It's a quality that recalls his mentor, Thomas Hampson, another uniformly rich and powerful voice.
The program brought together lieder from my favorite period in song composition, the early 20th century, focusing on German and Austrian composers who immigrated to the United States. Hausmann began with selections from the collection known as the Hollywood Songbook, the collaboration of composer Hanns Eisler and poet Bertolt Brecht (among other writers), created during Eisler's short stint writing film scores in Los Angeles. These pieces—a series of quirky miniatures—are steeped in the sense of alienation experienced by World War II refugees, and reinforce the feeling of non-resolution and quietly anxious internal monologue. Hausmann relished careful attention to diction in every song without allowing it to become overdone or affected.
Hausmann, who speaks English quite well, gave informative introductions to many of the sets, sharing his obvious enthusiasm for the composers whose work he was singing. He performed four songs by Erich Zeisl, a wartime refugee from Vienna, that displayed Zeisl's varied style; they ranged from a Straussian chromatic idiom (Die Nacht bricht an) to a kind of fairy tale ballad, with modal inflections and harmonic parallelism (Armseelchen), to wild-eyed expressionism (Schrei). Pianist Craig Rutenberg, one of the most sensitive accompanists working these days, provided plenty of volume to support Hausmann's loudest moments and was attentive to the smallest details of color and phrasing.
The first half ended with Five Songs, op. 38, by Erich Korngold, a composer also heard at Hausmann's first recital in Washington in 2006 at the Austrian Embassy. By this point, a certain monochromatic quality had emerged; many of the songs had a similar tone, and, more important, Hausmann did not do enough to bring out their differences.
This was true of the Gustav Mahler set that opened the second half, the Rückert-Lieder, which Hausmann and Rutenberg rendered with an unaffected simplicity—and not much else. As performed with piano by other singers, such as Christian Gerhaher, one does not miss the orchestration commonly heard with these songs. Here, however, accompaniment would have lent some much-needed variety to the performance. Hausmann's only minor technical issue was a tendency to sag ever-so-slightly flat—a flaw that appeared to stem from an uncertainty about how to bridge certain intervals, especially in passages without the piano.
While Hausmann seemed a bit disconnected from the Mahler songs, he came into his own—his face lighting up—in the final set, which comprised songs in a more popular idiom. He performed with a natural theatricality and a charismatic wit, particularly in Ralph Benatzky's broad, sentimental Ein Wiener Lied in New York, that indicated his natural inclination as a creature of the stage rather than a lieder singer of the first rank. These songs by Robert Stolz, Benatsky, and Korngold erred toward a treacly sort of German Broadway sound, but the beauty of Hausmann's voice and his sudden engagement in the songs made them easy to like. He performed a single encore: Rheinlegendchen, a song from Mahler's setting of the poetry of Des Knaben Wunderhorn. It's an odd little story about a farmer who throws his golden ring into the river so that a fish will carry it in its mouth to his unfaithful love, and it served as a delightful dessert.
For those craving even more good singing, Vocal Arts DC has rescheduled the recital by Eric Owens for next month (December 9, 7:30 PM) in the Kennedy Center Terrace Theater. Tickets for the original date will be honored.