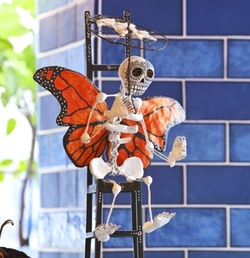 Day of the Dead Festival at Oyamel
Monday, October 17 through Wednesday, November 7.
The theme of Oyamel's Dia de los Muertos festival—a Mexican tradition that honors the dead with food, drink, and celebration—is the migration of the monarch butterflies to the Oyamel forest in Michoacan, Mexico. Chef Joe Raffa has conceived a special menu with ingredients indigenous to the area, such as potato fritters stuffed with chihuahua cheese and salsa verde; pan-seared trout with black-garlic-roasted potatoes and herb oil; and tacos filled with crispy pork belly and orange/jalapeno salsa. The dishes, offered at lunch and dinner, range from $4 to $10; cocktails are $11 to $12. Call 202-628-1005 for reservations.
DC Wine Week
Monday, October 17 through Saturday, October 22.
This city-wide wine festival continues through the week with wine tastings, classes, and gatherings. Official events include a sampling of Ruinart champagne paired with dishes from chef Adam Sobel at Bourbon Steak and a wine, chocolate, and cupcake tasting at Co Co. Sala (see the full schedule of events here). Some events are sold out, but there are plenty of daily happy hour deals at spots like Urbana, Hank's Oyster Bar, Grapeseed, and One Lounge.
Spice dinner with Behroush Sharifi (the "Saffron King") at Occidental Grill & Seafood
Thursday, October 20 at 6:30 PM.
The "Saffron King"—the spice purveyor who supplies the area's top restaurants—will be the center of attention at a cocktail reception and five-course dinner at the Occidental Grill. Dishes that highlight various spices include butter-and-mustard-seed-poached lobster with tumeric-scented artichoke and honey/truffle sauce; duck three ways; and chocolate budino with glazed-ginger-root ice cream. Sharifi will be on hand to talk and sell spices to guests, which currently aren't sold retail (he's working on an online store). The dinner is $110 per person per person, including wine, beer, and cocktails. Call 202-737-4147 for reservations.

Fish Fry at Watershed
Friday, October 21 at 7 PM.
Head to NoMa restaurant Watershed for chef Todd Gray's take on the tradition of Friday night fish fries. Passed hors d'oeuvres include crispy clams and shots of curried pumpkin soup. Then graze a buffet holding scallop-and crab-pierogi; crispy catfish; barbecue shrimp; potato-crusted fluke with collards and grits; and sweet-potato pie with ginger ice cream. To drink, there will be plenty of DC Brau beer. The meal is $75 per person, including tax and gratuity. Call 202-534-1350 for reservations.
Open House at Fleurir Hand Grown Chocolates
Saturday, October 22 from 11 AM to 7 PM.
Georgetown's newest chocolate shop hosts an all-day open house where guests can meet the owners and sample from a s'mores bar laden with housemade marshmallows, graham crackers, and regionally-inspired chocolate bars. Complimentary hot cocoa takes the edge off the fall chill. Call 202-465-4368 for more.
Redwood's Oktoberfest at Bethesda Row
Saturday, October 22 from 1 to 8 PM (taps close at 7).
Bethesda Row restaurant Redwood celebrates Oktoberfest with a festival featuring beer from 15 breweries, food from local restaurants, and live music. Admission —$32 per person—includes ten beer tickets; German-themed bites like pretzels and brautwursts; and a special mug. A kids' corner will offer games and activities. Some proceeds will go to the Cystic Fibrosis Foundation.

Bar Dupont Beer Festival
Saturday, October 22 from 11 AM to 11 PM and Sunday, October 23 from 11 AM to 10 PM.
Can't get enough Oktoberfest? Bar Dupont hosts a two-day celebration on its patio with $5 draughts and $20 pitchers of beers from Konig Ludwig, Harpoon, New Belgium, and Warsteiner. Pad your stomach with grilled sausages and bockwurst, sauerkraut, potato salad, and other traditional foods. There are space heaters in case of cold weather, or you can get the blood flowing by dancing to live polka music.

Cheese Class at Ripple
Sunday, October 23 from 3:30 to 5 PM.
In celebration of National Cheese Month, Cleveland Park restaurant Ripple is hosting a cheese class and tasting. Chef Logan Cox will demonstrate how to make different flavors of fresh ricotta, and guests will learn how to put together cheese and charcuterie plates. You can still celebrate cheese if you miss the class: Ripple is serving a $10 cheese plate with wedges from local producers like Pipe Dreams Dairy, Firefly Farms, and Meadow Creek Dairy through October. The class is $40 per person; call the restaurant at 202-244-7995 for more.