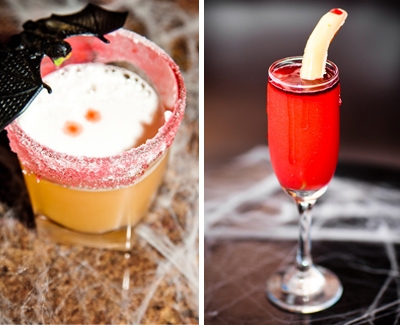 Lost Society is offering several speciality cocktails this Halloween. Photographs by Dave Phillipich
Day of the Dead at Oyamel
Monday, October 17 to Wednesday, November 2.
Oyamel takes Halloween back to its Mexican roots with dishes for Dia de los Muertos, or Day of the Dead. The small plates— inspired by the cooking of the Michoacan region—include crispy pulled-pork tostadas; spicy butternut-squash soup; and potato fritters stuffed with chihuahua cheese. Wash it all down with drinks like the Harvest Moon, a mix of mezcal, grilled corn, and sous-vide pineapple. Click here for more information.
Cupcakes at Rabbit
Friday, October 21 to Thursday, November 3.
Need a break from pumpkin-flavored everything? Clarendon's Rabbit is featuring two of Red Velvet Cupcakery's seasonal flavors for a limited time. First up is the Dark and Stormy, a triple-ginger cake topped with spiced-rum buttercream and ginger-beer gelee (available through the October 27). From October 28 to November 3, you'll find a take on rocky road, with chopped walnuts, mini-marshmallows, and chocolate chips. The cupcakes are $3.25 each.
Chocolate Treats, Classes, and Brunch at Co Co. Sala
Saturday, October 29 to Monday, October 31.
There's plenty of Halloween spirit at this Penn Quarter chocolatier and adjoining sweets boutique. Start celebrating early with Saturday's halloween-themed chocolate sculpture class from 2:30 to 3:30, or sip specialty "trick or treat 'tinis" come cocktail hour. Sunday, you'll find a prix fixe brunch—think s'more french toast, citrus-ricotta pancakes and more—or pick up pumpkin-seed brittle, "spooky pops," and other treats to take home.
Ghost Roast at Poste
Saturday, October 29 at 5 PM.
Wood-roasted baby goat and pig, pumpkin soup, and belly-warming drinks like bourbon cider and pumpkin ale are all on offer for this Penn Quarter restaurant's annual celebration. Guests can win prizes —such as a cocktail happy hour for 12 or dinner for four with wine pairings selected by sommelier Daniel Lobsenz—by taking part in the costume contest. Tickets ($50 per person) include dinner and a complimentary glass of cider or beer (a cash bar is also available). Call 202-449-7062 for reservations.
Oyster Roast at Addie's
Sunday, October 30 from noon to 5 PM.
Head to this Rockville spot's second annual oyster-fest for plenty of fried, roasted, shucked, and barbecued bivalves (chili, roasted suckling pig, and hot dogs are also on the menu). Costume contests and live music are also planned. Tickets ($40 in advance; $50 at the door for adults; $20 for kids under 12, and free for kids under 5) can be bought here.
"Scary" Cupcake Class at the Butcher's Block
Sunday, October 30 from 3 to 5 PM.
Joanne Decoux, pastry chef at Alexandria's Brabo, leads this workshop for kids and their parents. The $15 admission for one adult and child includes a goody bag, cupcake-decorating supplies, and—here's a selling point—a glass of wine for Mom, Dad, the babysitter, or whoever comes along. Costumes are welcome. Click here for more information.
Ode to Offal at the Queen Vic
Sunday, October 30 at 6 PM.
Leave your picky-palated friends at home: this innards-heavy dinner, featuring blood cakes with fried duck egg, cow-brain ravioli, and grilled bone marrow is not for the faint of heart. Costumes are mandatory and will be judged during a happy hour-priced cocktail session prior to the start of the four-course meal. Beer pairings make the offal experience even better. To make a reservation for the evening—$80 per person—call 202-534-2014.
Dinner to Die For at Fiola
Monday, October 31.
Celebrate Halloween in adult fashion with a three-course dinner and wine pairing —$70 per person—at chef Fabio Trabocchi's Italian eatery. Spook night-themed courses include "shell shocked" spicy crab toast and "devil's delight" pappardelle with wild Scottish hare. If you're more in the mood to graze, head to the bar starting at 5 for festive cocktails and small plates. Call 202-628-2888 for reservations.
Beer Bashes at ChurchKey
Saturday, October 29 at 8 PM and Monday, October 31st at 6 PM.
Two Halloween events for the beer-crazed: On Saturday, ChurchKey is hosting a free-admission costume party, and prizes include group beer tastings and rare bottles from beer director Greg Engert's personal cellar. On Monday, the restaurant's "Night of the Living Ales" party includes a slew of beers including Allagash Ghouleschip, Jolly Pumpkin La Parcela, and Alvine Wild Undressed (all individually priced).
Spooky Drinks at Lost Society
Through October 31.
New U Street dining room Lost Society is serving up four ghoulish drinks ($10 each).
The special offerings include the Blood Bag, a crimson-colored mix of honey, agave, and orange bitters with a single candy finger; and the Hallucination Sour, infused with absinthe and dotted with two faux bite marks.
Halloween Cocktails at Hank's Oyster Bar and Lounge
Through October 31.
In addition to seasonal punches and cocktails at the newly-opened lounge adjoining Dupont Circle's Hank's Oyster Bar, mixologist Megan Coyle is concocting a specialty Halloween cocktail, Hard Candy—vodka, concord-grape syrup, soda water, and a hit of acid phosphate.