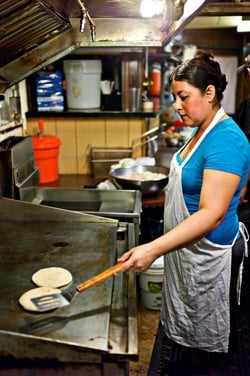 Thanks to Washington's large Salvadoran population, the area is awash in pupusas, those griddled corn-flour cakes typically stuffed with combinations of cheese, beans, and pork. Because lots of area restaurants have Salvadoran staff, the pancake-size patties are turning up on American menus, too.
Tuesdays and Wednesdays at Silver Spring's Quarry House Tavern, deliciously light pupusas share billing with such dive-bar fare as burgers and fried pickles. The pupusas are hand-pressed by Carolina Cruz—her husband, Walberto, is head cook—who learned the craft working in her aunt's pupuseria in El Salvador. Using ingredients from her home kitchen, Cruz originally made them for staff, who insisted they go on the menu.
At the Hyattsville tavern Franklins, the kitchen was catering a Christmas party, and the client put in a request for pupusas. Franklins chef Marc Heckrotte says he tried one of the corn cakes while his staff was making them: "They were delicious." He started offering them as a special, tweaking the traditional recipe by using portobello mushrooms and a scattering of queso fresco, and they were popular enough to earn a permanent spot on the restaurant's appetizer list. In a lineup that includes Maryland crab dip, fried calamari, and Buffalo wings, "they fill a niche for us," says Heckrotte. "They're vegetarian."
This article appears in the October 2011 issue of The Washingtonian.