As told to Sophie Gilbert

See Also: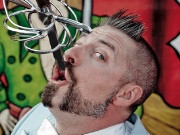 I was concertmaster—the first violinist—for a professional pickup orchestra in New Jersey, and we were performing Rhapsody in Blue with Mel Tormé. I was probably 22 years old. The conductor didn't show up, and all my friends knew that I wanted to conduct, so they said, "Oh, Marin will do it."
It was exciting. I had dreamed about being a conductor for so long that finally being able to do it felt natural. It felt like being home—like this was not only what I wanted to be doing; it was what I should be doing. When you do something for the first time, it can seem easier than it really is because you don't know all the challenges involved. I remember thinking, this feels relatively easy. But then as I got into it later, it got much harder.
I'd wanted to be a conductor since the first time I saw Leonard Bernstein conduct. I was nine years old, and my father took me to a young people's concert by the New York Philharmonic. We sat so close I could feel Bernstein's energy. He turned and talked to the audience, and I explained to my father afterwards that he was speaking only to me. I told my father, "I want to do exactly what he's doing when I grow up." I was swept up in the excitement of symphonic music.
Marin Alsop, the first woman to head a major US orchestra, has been music director of the Baltimore Symphony Orchestra since 2007.

This article appears in the November 2011 issue of The Washingtonian.