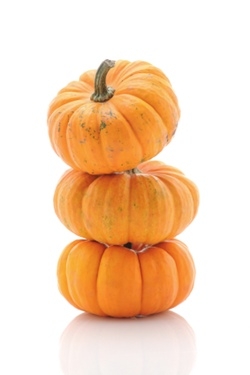 Halloween Week
Halloween is a week away, but there are plenty of spooky cocktails, cupcakes, and savory treats to eat in the meantime. Check out our list of restaurant specials, and don't miss our guide to parties and haunted houses.

National Food Day
Monday, October 24. Event times vary.
Food Day is a nation-wide initiative to promote healthy, sustainable eating, and there are several events happening around Washington. Each of the Neighborhood Restaurant Group venues—Vermilion, Rustico, Evening Star Cafe, Tallula, and Birch & Barley—are offering a free dessert from pastry chef Tiffany MacIsaac in return for a $10 donation to their Arcadia Center for Sustainable Food & Agriculture.
At 6:30, the 14th and V Street location of Busboys and Poets is screening A Community of Gardeners, a DC-based documentary. This will be followed by a seminar with filmmaker Cintia Cabib, Alice Kamps, who curated the National Archives' "What's Cooking, Uncle Sam?" exhibit, and community gardeners.
Great Lakes Brewing Company Dinner at Dino
Tuesday, October 25 at 6:30 PM.
Cleveland's eco-conscious Great Lakes Brewing Company is teaming up with Cleveland Park Italian spot Dino for a six-course fall dinner with beer pairings. The menu, $49 per person, includes linguine with house-made sausage and mussels; beer-braised beef with roasted vegetables; and spicy cinnamon gelato in an Edmund Fitzgerald Porter float. Call 202-686-2966 for reservations.

Michael Pollan at the Strathmore
Wednesday, October 26 at 8 PM.
Join Michael Pollan, author of the award-winning The Omnivore's Dilemma, for a seminar on some of the most pressing topics in food today. The New York Times contributor will discuss issues like industrial agriculture, the flaws in nutrition guidelines, and national food reform (learn more about Pollan here). Ticket prices start at $35 for general admission. Call 301-581-5100 or click here to purchase.
National Champagne Day at Proof and Marcel's
Friday, October 28.
It's a good weekend to say cheers, as Proof and Marcel's are celebrating National Champagne Day with plenty of bubbly. Proof wine director Sebastian Zutant is selecting by-the-glass specials which range from wallet-friendly picks (Jean Moutardier Rose for $10) to splurges (a rare 1997 Salon Le Mesnil for $60).
At Marcel's, dinner guests can indulge in a flight of three champagne-and-hors-d'oeuvres pairings—such as Jacquesson Cuvee 734 and oysters with champagne mignonette—for $100 per person. A flight of three champagnes without nibbles is also available at the bar for $29 per person. Call Proof at 202-737-7663 and Marcel's at 202-296-1166 for reservations.
Iberico Ham Cooking Class and Lunch at BLT Steak
Saturday, October 29 from 12:30 to 3 PM.
BLT Steak chef Victor Albisu is teaming up with Wagshal's Market for this cooking class and four-course lunch that's centered around cured Iberico de Bellota ham. The rich meat of the Spanish acorn-fed pigs is closer to wild boar than your average farm-raised pork. Guests can learn about the ham's background, taste samples, and learn how to prepare it using several recipes. A sit-down lunch with dishes from the demonstration follows the class. The event is $100 per person, and reservations can be made by calling Erica Frank at 202-689-8989.

Oyster Roast at Addie's
Sunday, October 30 from noon to 5 PM.
Dive into oyster season at Addie's, where there will be a fundraiser for the Washington Nationals Diabetes Care Complex. The menu includes bivalves served four ways: roasted, fried, shucked and barbecued. There will also be chili, roast suckling pig, hot dogs, barbecue chicken, and more, as well as costume and oyster-eating contests, pumpkin decorating, a silent auction, and live music. Tickets are $50 in advance, and $60 at the door, with all proceeds supporting the complex. Click here to buy them.