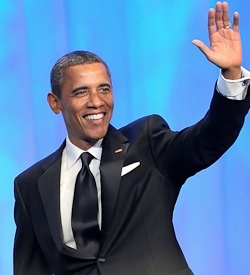 President Obama continued his culinary tour of Washington with an inaugural stop into Liberty Tavern in Clarendon on Thursday evening. Obama Foodorama has details on the dinner guests, who won supper with the president in one of two campaign fundraising contests. Eater DC caught up with the restaurant's owner, Stephen Fedorchak, to talk about the Commander-in-Chief's meal, which included Portuguese-style swordfish with white beans and lamb sausage and a special amuse bouche: a house-made Chicago-style dog with pickled vegetables on a poppyseed bun.
In chef shuffles, Tom Sietsema broke the news that Robert Weland landed the head chef position at Cork Wine Bar recently vacated by Ron Tanaka. The Cork space is much smaller than Weland's prior digs at Poste, but plans are already in the works for a wood-burning grill and garden. The eco-conscious chef told us back in September that he left the Kimpton Hotel eatery to pursue a restaurant and book of his own. So are all bets off? Not necessarily. Weland told Best Bites editor Jess Voelker that both projects are still in the works.
And there are more sudden changes in Michael Landrum Land this week. The Washington Post discovered that Ray's the Steaks at East River quietly closed on Sunday so that "improvements" could be made to the concept. While a sign in the window says that a reopening is planned for January 2012, WaPo's Tim Carman surmises that the shuttering may be "a knuckle sandwich delivered in a velvet glove—a way to soften the blow of closing a struggling restaurant." But when it comes to Landrum, who knows? The restaurateur, who declined to comment, has been opening and closing eateries with abandon these days.
Meanwhile, in Penn Quarter, Chef Michel Richard is putting final tweaks on new ball-themed restaurant. We checked in at the yet-to-debut Meatballs, where the protein spheres come in five varieties: traditional beef, lamb, crab, veggie, and fried chicken. There are also ball-themed t-shirts ("Don't kick my balls!") and decor (think golf, gum, and ping-pong balls in jars). Check back in with us for updates on the opening next week.
The Huffington Post has updated details on Chez Billy's, a French bistro and watering hole from sibling team Eric and Ian Hilton (the nightlife gurus behind Marvin, Eighteenth Street Lounge, and American Ice Company). The two-story restaurant is set to open in one of Petworth's historic buildings in January 2012. Bistro fare is on the menu. Weekends, a DJ will spin upstairs.
We checked out BonMi, a new Vietnamese-inspired fast-and-casual eatery that opened this week downtown. Marinated tofu and meats like lemongrass chicken, pork meatballs, and barbecued brisket are cooked sous-vide, then tucked into lettuce wraps, soft summer rolls, and bánh mì with pickled veggies and spicy mayonnaise. There's also Vietnamese iced coffee for those in need of an Eden Center-style wakeup on weekdays.
But when the restaurant gods giveth, they also taketh away: The Prince of Petworth notes that the U Street's Chidogo's is closing. Fans, fear not. You can still head to the National Harbor or College Park, where the Chicago-style sandwich spot is opening another location soon.
Changes are also afoot at Capitol Hill Cupcakes, says Frozen Tropics. The brick-and-mortar retail space will close for business (or lack of) on October 30th, though patrons can still place orders for baked goods with 24-hour notice. The plan is to return in the form of a food truck in the coming months.
In cheftestant news: So close! CityZen pastry chef Matthew Petersen made it all the way to the Top Chef Just Desserts season finale on Wednesday, but ultimately lost to Chris Hammer from Las Vegas. The young toque talked with Eater DC about the show, how it impacts the creative process, and having "cameras up your butt all day long."
Finally, there's more trouble for Gillian Clark. First came the controversial videos, then the tumultuous closing of the General Store, Clark's popular Silver Spring haunt. Now DC NoMa reveals that her new project, Kitchen on K Street, will not debut as planned. A rep at the Loree Grand complex in NoMa, where the restaurant was slated to open, confirmed that the deal was off. Clark has yet to comment on that latest development, though she did offer the following update to the Huffington Post recently: "Currently I am a terribly underpaid line cook at a steak house where no one has ever heard of me." Maybe this is rock bottom?