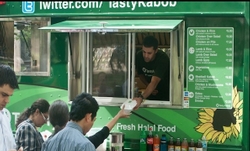 About a year ago, Steve Hanifi opened his first Tasty Kabob cart in Rosslyn, serving up the Afghan delicacies passed down through his family. Six months ago he moved into DC, and today his trucks park themselves at locations all over the District, making kebabs and gyros for lunch crowds burnt out on Potbelly and Au Bon Pain.
The next move? A brick and mortar. "In DC if we can," says Hanifi, who has toured empty spaces in Adams Morgan and along H Street. But he'd prefer a property with a few parking places for his fleet of trucks. That's pretty hard to come by in the the District, so he's been poking around vacant spaces along Route 50 and Lee Highway. Hanifi says he'd love a parking lot-enhanced location like the one meals-on-wheels comrade Sâuçá enjoys on Columbia Pike in Arlington.
Hanifi says he'd serve three meals a day at a brick and mortar, starting with a traditional Afghan-style breakfast. He would expand the menu to include his grandmother's made-to-order eggplant recipe—too complicated to serve out of a truck kitchen—and more intricate lamb preparations.
We'll follow up with Hanifi for updates on his search. Meantime, check out our daily food truck report to keep up with all the mobile eats.