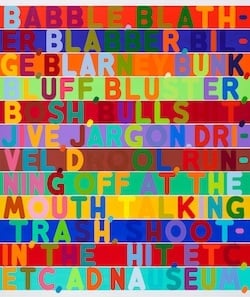 Climb the spiral staircase to the NGA East Building's Tower Gallery this Sunday Wednesday, and you'll discover 43 works by conceptual artist Mel Bochner—and possibly even the artist himself.
The National Gallery's "In the Tower" series, which celebrates developments in art from the midcentury to the present, has previously played host to the likes of Mark Rothko, Nam June Paik, and Philip Guston. The installation of Bochner's "thesaurus" pieces—bold canvases toting synonyms of emotionally charged words such as "useless" and "obscene"­—marks the first time a living artist's work has been exhibited in the space, providing a unique opportunity to meet the man behind the canvas.
Instead of a retrospective, the exhibition offers a thematic cross-section of Bochner's career—and a colorful, evocative one at that. Bochner first experimented with descriptive word portraits in the late 1960s, selecting terms to represent contemporaries such as Eva Hesse and Robert Smithson and enlisting Roget's-sourced synonyms and shapes to complete his depictions. He returned to this meditation on language in 2001, making notebooked lists of words that toy with the devolution of language, from the proper ("innominate") to the vernacular ("what's-his-face") to the downright obscene (we'll leave that one for later).
A cherry-picked sampling of these drawings (selected by Bochner and James Jerry Meyer, the exhibition's curator) are on display in the Tower's antechamber-like side gallery, warming up viewers for the immense, dazzlingly bright canvases displayed in the main gallery. Ten of Bochner's thesaurus paintings fill the space, four of which are fresh from the artist's studio. In these more mature renderings, Bochner plays with the circularity of words—what he terms the "opacity of language"—offering long lists of synonyms handpainted against contrasting pops of color, all concluding with an open-ended comma. His close-value hues (at some points you'll find yourself squinting to make out the words on the canvas) and quick-change colors challenge the viewer to look instead of read, altering the experience with the language.
Fear not: This is conceptual art at its most accessible­­—"blatantly accessible," says Meyer. Even the most skeptical viewers will leave with something to talk, babble, chat, prattle, gab, yak, and flap their tongues about.
"In the Tower: Mel Bochner" is on display from November 6 to April 8. Bochner will be at the gallery Sunday, November 6, at 2 PM and Wednesday, November 9, at 3:30 PM to discuss the exhibition.