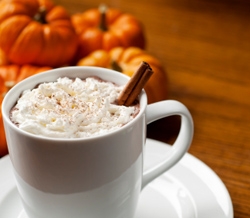 Look away, coffee snobs. While we may not understand the excitement over the return of the McRib (what's with that, people?), there is one chain restaurant product to which we have an inexplicable, slightly shame-inducing addiction: the pumpkin spice latte. In autumns past, we've begrudgingly braved the morning lines that snake around Starbucks more times than we'd care to admit for a hit of that toasty-sweet goodness. But this year, the folks in tents down at Occupy DC have us rethinking where we should spend our hard-earned cash. For those looking to spread the love to some local establishments, here's a quick rundown of other Washington-area coffee shops ready to satiate your pumpkin spice craving.
Bourbon Coffee (2101 L St., NW; 202-525-1886) has plenty of pumpkin syrup on hand and is happy to add it your drink of choice. Our barista recommended it in either a white mocha or in your standard latte with a sprinkle of nutmeg on top.
St. Elmo's Coffee Pub (2300 Mount Vernon Ave., Alexandria; 703-739-9268) in Del Ray should be replenishing its supply of iced pumpkin-flavored drip coffee the week after next. In the meantime, the pumpkin syrup stock is still in good shape, and the barista we spoke with highly recommends the pumpkin chai.
Out by Union Station, Ebenezer's Coffee House (201 F St., NE; 202-558-6900) says the pumpkin spice latte and pumpkin chai are two of its most popular drinks this fall.
Just north of Dupont Circle, Filter Coffeehouse (1726 20th St., NW; 202-234-5837) doesn't have any pumpkin-flavored drinks, but the delicious pumpkin muffin might do the trick.
South of the circle, yogurt shop Yola (1323 Connecticut Ave., NW; 202-223-0000) makes a new batch of pumpkin spice syrup in-house two to three times a week. Puréed pumpkin and a secret mix of spices are boiled down to bring you what just may be the freshest pumpkin latte around.
At Frosting A Cupcakery in Chevy Chase (One Wisconsin Cir.; 301-539-9021), the pumpkin pie latte comes with a dollop of whipped cream.
Looking to shave a few calories off your favorite fall treat? Whipped cream is not an option for the pumpkin spice latte at Iota Cafe (2832 Wilson Blvd.; 703-522-8340) in Clarendon.
Those working close to the White House will be happy to know that Swing's Coffee House (1702 G St., NW; 202-628-7601) will add pumpkin syrup to your latte any day of the work week.
In Georgetown, be on the lookout for Patisserie Poupon's fall drink menu—the Harvest latte will include vanilla syrup, a dash of heavy cream, a pinch of nutmeg, and a hearty dose of pumpkin spice. (1645 Wisconsin Ave., NW; 202-342-3248)
Like Filter, Baked & Wired (1052 Thomas Jefferson St., NW; 202-333-2500) doesn't have any pumpkin-flavored drinks, but it does offer a pumpkin version of its notoriously decadent cupcake out for fall; the pumpkin cream cheese brownie ain't bad, either.
If you find yourself by Georgetown University, head to any one of the on-campus, student-run coffee shops (Uncommon Grounds, MUG, and Midnight Mug) for a dash of pumpkin syrup in your drip coffee or a pumpkin chai latte.
ACKC Cocoa Bar may be known for its chocolate, but you can also get a wide variety of pumpkin-flavored espresso drinks at the coffee counter (1529 14th St., NW; 202-387-2626).
In Columbia Heights, vegan bakery Sticky Fingers (1370 Park Rd., NW; 202-299-9700) has a pumpkin spice syrup that can be added to any espresso drink.
Ready for a gourd smorgasbord? Head to Buzz Bakery in Alexandria (901 Slaters Ln.; 703-600-2899), where you can pair your pumpkin spice latte with a pumpkin cupcake topped with cream cheese frosting and toasted pepitas (baby pumpkin seeds), or the pumpkin spice toffee bread pudding, which is served with bourbon whipped cream.
And for those who like a less intense flavor, Pound on the Hill (621 Pennsylvania Ave., SE; 202-621-6765) offers a traditional pumpkin spice latte with fewer pumps of syrup. Another scrumptious-sounding fall drink is the Apple Pie, which combines warmed apple cider, whipped cream, and a stick of cinnamon. Yum.