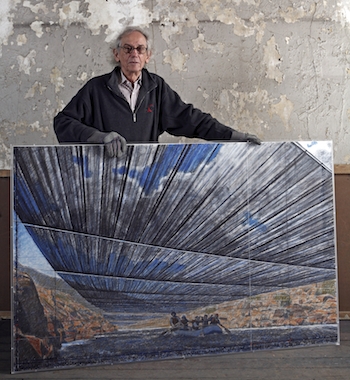 Yesterday's announcement that the Bureau of Land Management had approved a new $50 million artwork by Christo was welcome news for fans of the environmental artist, whose last major work was 2005's "The Gates"—a series of saffron-colored vinyl gates built in New York's Central Park. Christo's new project—devised with his wife, Jeanne-Claude, who died in 2009—is titled "Over the River," and will cover a 42-mile stretch of the Arkansas River in Colorado with panels of reflective silvery fabric. The project's approval means it could appear in Colorado in August 2014.
Washingtonians don't have to wait that long to get a glimpse of "Over the River," however. This morning, Christo stopped by the National Gallery of Art with Secretary of the Interior Ken Salazar to announce the donation of two preparatory collages to the NGA, which owns the largest collection of works by Christo in the world. Director Earl A. Powell said the NGA has had a "long and close" relationship with Christo, and he hopes that these collages, on display in the East Building through January 23, 2012, will "bring to light the development process" behind Christo's extraordinary project.
"Over the River" will positively impact Colorado as well as the US as a whole, Secretary Salazar said, by providing jobs in the area, boosting tourism, and demonstrating to visitors "the greatness of the things that America has to offer." A 1,686-page environmental review started by the BLM in 2009 found that "Over the River" has more than 100 measures in place to minimize the work's impact on wildlife, traffic, and the environment. The project is funded entirely by Christo himself, and will be free to the public for the whole two weeks.
"One person missing very much is Jeanne-Claude," said Christo of his wife and lifelong partner, who traveled to 89 separate rivers with him in the 1990s while scouting possible locations for "Over the River." Christo also said that all the discussion over the impact of his work has been extremely stimulating: ""We are probably the only artists in the world whose work is discussed before it physically exists."
"Over the River" will suspend 5.9 miles of fabric a minimum of eight feet over the Arkansas River between Salida and Cañon City in south central Colorado, reflecting sunrises, daylight, and sunsets through the shimmering fabric. The purpose of the piece, said Christo, is beauty—"totally unnecessary, totally useless. [After] those precious 14 days, something we'll never do again."
The preparatory collages for "Over the River" are on display in the National Gallery's East Building through January 23. For more information, visit the NGA's Web site.