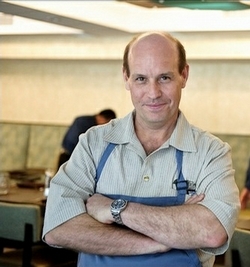 Book Signing and Beer Tasting at ChurchKey
Monday, November 7, from 6 to 8 PM
Author Josh Bernstein heads to ChurchKey this evening to sign his latest work, Brewed Awakening: Behind the Beers and Brewers Leading the World's Craft Brewing Revolution. Admission is free, which saves money for sampling local craft brews that are featured in the book, including pours from Stillwater, Flying Dog, and Heavy Seas. Call 202-567-2576 for more information.
Anniversary Celebration at Pizzeria Paradiso
Monday, November 7, through Sunday, November 13
Pizzeria Paradiso celebrates its 20th anniversary this week with a weeklong lineup of specials and events. Bruce Williams, brewmaster at William Bros. Heather Ales, will travel to the chain's three locations (in Georgetown, Dupont Circle, and Alexandria), mingling with guests as they sample $3 12-ounce pours of his beer (offer varies by location). Wednesday, $20 will buy you all the pizza you can eat plus two beers, and your first beer on Friday will cost just 20 cents. On Sunday, the Alexandria Paradiso is giving away 20 kids' pizzas for free.

Dogfish Head and Sam Adams Beer Dinner at Thunder Burger & Bar
Tuesday, November 8, at 7 PM
Head to Georgetown for an eight-course dinner paired with ten limited-release brews from Dogfish Head and Sam Adams. Chef Ryan Fichter takes a break from burger-making, turning instead to cocoa-rubbed pork belly over grits, ahi tuna poke, and curry pumpkin-coconut soup with jerk chicken skewers. The beer selection includes Sam Adams American Kriek, Dogfish Head 120 Minute IPA, and Savor Flowers, a rare collaboration between the two breweries. Tickets are $120 per person, including tax and gratuity. Call 202-333-2888 for reservations, or email info@thunderburger.com.

Capital Food Fight at the Ronald Reagan Building
Thursday, November 10, at 6 PM
You can always expect a crowd of culinary stars at this annual extravaganza, and this year is no different: José Andrés, Anthony Bourdain, Ted Allen, Joan Nathan, and Ming Tsai headline for a night of cooking demos, competition, and tastings. Chefs from more than 50 restaurants gather and offer tasting portions of signature dishes. Among them are Adour, Estadio, the Source, America Eats Tavern, and many more.
Nibble while watching the main stage, where chefs Todd Gray, Haidar Karoum, Jeff Black, and Brian McBride do battle before the judges. Tickets are $200 per person, and can be purchased on the Web site.
Wild Game Demonstration at the Butcher's Block
Thursday, November 12 10, from 2 to 3 PM 6 to 7 PM
Brabo chef de cuisine Chris Watson shows guests how to break down and dress small wild game birds, including squab, quail, pheasant, chucker, pigeon, and Cornish game hens. The demo is free, and most of the birds will be available for purchase. RSVPs can be made by emailing bbevents@braborestaurant.com or calling 703-894-5253.
Editor's Note: The event's time and date have changed.
Oyster Tasting at BlackSalt Restaurant
Saturday, November 12, from 3 to 5 PM
Get your fill of oysters at this fundraiser for the Washington Nationals Diabetes Care Complex, where bivalves are served fried, grilled, on the half-shell, and in oysters Rockefeller. Wash them down with wine pairings from Roederer Estates, Argyle Winery, and Sileni Estates. Pastry chef Susan Wallace will be making dessert. Tickets
are $85 per person (or $95 if purchased at the door).
Culinary Walking Tour of Wheaton with Les Dames d'Escoffier
Saturday, November 12, from 9:45 AM until early afternoon
Join Les Dames for a tour of the global dining scene in Wheaton, with nine stops for sampling, sipping, and demo watching. The day starts at By Brazil with coffee and breakfast, and continues to spots like Hung Phat Asian Market for fresh rice noodles and a lesson on Asian ingredients; Marchione's Italian Deli for cold cuts, olives, and cheeses; and Dessie Ethiopian Restaurant and Market for lunch. Reservations ($45 per person) include breakfast, lunch, and samples. Register on the Web site or call 202-973-2168 by Wednesday, November 9.