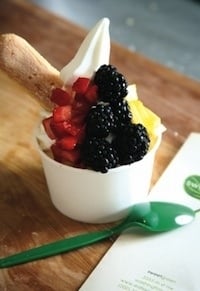 Good news if you've been dying to try chef Johnny Monis's food at Komi but can't land one of the coveted reservations: The young toque is expanding with a 30-seat dining room below the restaurant called Little Serow. The Prince of Petworth reports that the "spartan" space is complete, and will start serving prix-fixe, family-style Thai meals for walk-ins only.


Metrocurean followed up with Monis, who says the $45 Northeastern Thai meals are his "passion project." Service could begin as early as next week. 


Restaurateur Michael Landrum quietly debuted Steak and Cheese in the former Ray's Hell Burger Too space on Wednesday. We took a peek inside the no-frills joint, where steak sandwiches are topped with melted cheese and extras like mushrooms and charred jalapeños. 


Eater DC broke the news that Brian McBride is leaving Blue Duck Tavern to partner with chef Robert Wiedmaier (Marcel's, Brasseries Beck, Brabo) on new ventures. Plans are under wraps, but McBride told WaPo's Tom Sietsema that "butchery will be in the forefront."


The City Paper reports that Ben's Chili Bowl owners Nizam and Kamal Ali purchased the George's Place space on H street. An exact concept remains TBD.


This week brought the official announcement that chef Todd Grey hired an outside executive chef, Karen Nicolas, to helm the kitchen at Equinox—a first for the restaurant. The Best Bites Blog caught up with Nicolas, who has cooked under the likes of Tom Colicchio and Charlie Palmer, about plans at the downtown restaurant.There's brews news from Young & Hungry: Thor Cheston, who left his position directing the beer program at Brasserie Beck last month, has plans for his own pub. Cheston's scoping spaces in Shaw and Bloomingdale neighborhoods with wife and Ris wine program director, Leah Cheston. House-brewed suds and "American comfort food done well" are on the agenda.
Fro yo joints continue to pop up everywhere: DCist says that New York-based Tasti-D-Lite is officially open in Dupont. Next up: a Columbia Heights location.
Lastly this week, the soap opera that is Shaw's Tavern seems to have finally drawn to a close. The City Paper has details on the official ruling by DC's Alcohol Beverage Control Board, in which owner Abbas Fathi is labeled "unfit for licensure."