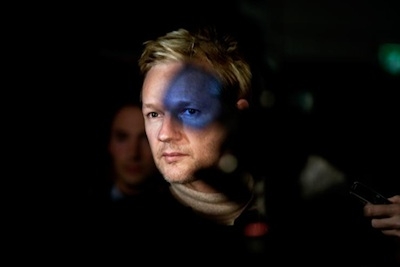 A man carries a shark through the streets of Mogadishu, Somalia. This photo won first prize in the daily life single category of the "World Press Photo Exhibition" this year, and some selections from the contest are on display at FotoWeek Central. Photograph by Feisal Omar for Reuters, courtesy FotoWeek DC
Borders on 18th and L, we hardly knew ye. The aisles we once haunted for hours perusing travel guides, bargain cookbooks, and improbably cheap Justin Bieber catalogues are experiencing a temporary reincarnation as the main home of FotoWeek DC, the area's biggest annual photography festival.
FotoWeek Central, as the space is called (for the next week, at least) feels eerily familiar, even though the books are gone, the carpet is patchy in spots, and there isn't a Lindor truffle in sight. Instead, 14 separate exhibitions inhabit the 50,000-square-foot space. If you pop in during lunch hour, be prepared to linger—there are literally thousands of photographs on display. The two star features are "World Press Photo Exhibition 2011" and "Beyond Witness: New Approaches to Crisis Photography," which is curated by the Pulitzer Center on Crisis Reporting. The former displays large-scale reproductions of winning photos from the prestigious World Press Photo contest, chosen from more than 100,000 submissions. There's Seamus Murphy's portrait of Julian Assange by the entrance, a blue light casting an eerie light over the infamous Wikileaks founder; and a bleakly comic image, captured by Vincent Yu, of North Korean dictator Kim Jong-il gazing at his son.
But by far the most powerful photos are also the darkest (and the ones you may not want to take young children to see), such as Marco Di Lauro's grim photo of livestock skeletons and entrails hanging from a tree in famine-ridden Niger, or Jodi Bieber's simply staged portrait of Bibi Aisha, an 18-year-old in Afghanistan whose nose and ears were cut off by her husband's family. Aisha's expression is calm but suspicious, her ruined face still beautiful. The image was chosen as World Press Photo of the Year, and it's a reminder of the power photography has to provoke, inform, and encourage change.
Downstairs, visitors can look at winning entries from a number of FotoWeek competitions. There's pink and white galore at the section displaying "2011 FotoWeek DC Cherry Blossom Festival Contest Winners," which was also timed to celebrate the festival's centennial next year. In what was presumably once a staff room or a storage space of sorts (it feels dingy and unloved), photos by Youth Contest winners hang next to a small selection of images titled "Through the Lens of DC Youth," including a heartbreaking image by "Byron," a 12th grader at Spingham STAY Senior High School. Byron placed a picture of his brother, who was murdered in 2006, between the keys of a piano and photographed it. "I feel like this piano . . . represented my brother in a way that words can't," Byron writes in the accompanying text.
There's plenty more to peruse, including an exhibition of work by Alberto Schommer (Schommer's portrait of Andy Warhol draped in a flag is particularly notable), a "RAVE Retrospective" of the best works by the International League of Conservation Photographers, and the Magenta Foundation's stunning, rose-tinted landscapes. And for those who miss turning pages in the space, there's even a display of photography books to flick through. Entrance is free, but registration is mandatory: You can register on-site by providing your email address. For a full list of events and exhibitions at FotoWeek Central (18th and L sts., NW), check out FotoWeek DC's Web site; and if you haven't already, check out our list of the festival's can't-miss happenings.